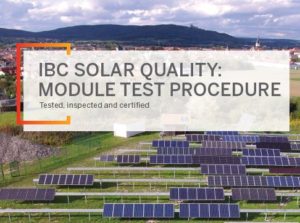 The Ironman for photovoltaic panels takes place every day in our own quality control laboratory. After all: We only offer the very best IBC SOLAR modules! In order to receive this distinction, the panels must pass a series of endurance tests. In the second article in the series, we will present the insulation resistance test under wet conditions.
Rain, dew, melted snow – a lot of water flows down the cells over the course of a solar panel's service life. The measurement of resistance to moisture is therefore a central test procedure that our photovoltaic panels have to undergo. The "insulation resistance under wet conditions" is tested according to DIN EN 61215-2:2017.

The panels are immersed in a special water bath to just below the outlets for two minutes at 22 degrees Celsius and a resistance of 3,500 Ω/cm and then electricity is applied. If panels have an area of greater than 0.1 m², the measured insulation resistance multiplied by the module area must not be less than 40 MΩ x m².
It is important to measure the insulation resistance because moisture may not reach active parts of the PV module, which means that corrosion, earth leakages and safety risks can be ruled out.
Read more:
Blog series 'Quality inspection for modules' part I: Electroluminescence