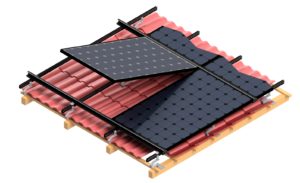 Beautiful design and simple mounting: the expansion within our portfolio, the IBC TopFix 200 insertion system, covers all bases.
Especially designed for the mounting of modules on tiled roofs
The IBC TopFix 200 insertion system offers various benefits. In this context, mounting takes place without the usual clamps. The modules are inserted directly into the profile rails instead. Only a rail profile and adapter profile are required for the mounting of modules of all standard frame heights between 32 and 40 mm. This offers maximum flexibility for planning and significantly reduces storage costs. The insertion system is also compatible with other tiled roof components of the IBC TopFix 200 product family.
However, also the safety aspect does not fall short: The high system load capacity provides maximum safety and allows this system to be used in regions with high snow loads.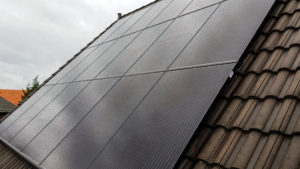 A true eye-catcher
The completely black system also convinces with its look. Black anodised system components combined with IBC SOLAR black modules are visually appealing and turn the PV system into a stylish eye-catcher. The winners of our solar competition 2018 can also vouch for that.