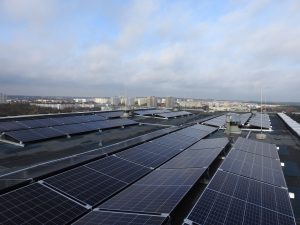 496 photovoltaic panels, a capacity of 164 kWp and four 17-story buildings in Poznan, the capital of Wielkopolska region. These were the specifications of the latest solar project of IBC SOLAR in Poland. Together with one of our Premium Partners, a complex PV installation was installed on the roofs of four 17-story buildings of the Poznan Housing Cooperative Winogrady. Another positive step for solar energy in Poland.
Photovoltaic gains more and more attention in Poland and the interest of companies in having a PV installation rises. In addition, pilot programs as "Sunny Roofs" in Poznan allow financial support and helps with making the decision to invest in a PV installation. This was the case with the Winogrady project and work started on the investment in mid-August 2020 and lasted a total of four months.
An innovative project
During the development concept phase for this PV installation, it turned out that the ballast system, which is a typical mounting solution used in photovoltaic projects on flat roofs, could not be used for this project. "In the case of the PSM Winogrady blocks, the design engineer's opinion showed that the load-bearing capacity of the buildings is too low for this type of structure to be used. An additional challenge was the need to install PV modules at a height of more than 50 meters above ground level without piercing the roof sheathing and safely lowering certain elements of the installation, for example power cables, through 18 floors" – explained Mariusz Wilk, Country Manager at IBC SOLAR Poland.
To meet the challenges of this investment, the executive team approached the installation design creatively. "We used our universal TopFix 200 mounting structure for pitched roofs, which is light, and attached it to the roof surface with the necessary non-invasive mounting plates provided by one of our partners. They ended up as special connectors welded with bitumen to the upper surface of the waterproofing. We then attached our mounting structures to these plates, and on top of that the IBC MonoSol 330 CS5-HC photovoltaic modules were installed" – explained Mariusz Wilk.
This solution allowed to avoid both interference with the roof surface and loading the ceiling, as well as ensure the strength and safety of the installation, which is exposed to forces of up to 700 kg at this height. These forces are 100% higher than those of a 4-story building.
The PV system in detail
The Poznan installation consists of 496 photovoltaic panels designed using half-cut technology. Each of the four PV systems installed on individual housing blocks will generate approximately 35,000 kWh of electricity each year. This will account for about 80% of electricity that is currently used to power common parts of buildings, such as elevators, lighting in corridors, entrance doors, as well as ventilation systems.