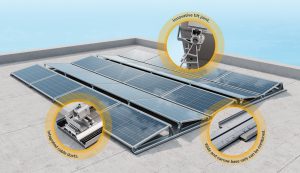 Our in-house mounting system IBC AeroFix has been part of IBC SOLAR for almost a decade now. From the very beginning, a lot of work, time and heart and soul went into the development. And the effort was worth it, because our mounting system for flat roofs has proven over the years what it is made of. From its stability in the strongest storms to its fast assembly. To date, the total output of the system has reached an estimated 600 MWp, primarily in the commercial segment, of course. And the trend is rising, because we are constantly developing the system further – recently with the new IBC AeroFix G3.
If a flat roof meets the basic requirements such as a suitable size, stable insulation, the right static friction coefficient and angle of inclination as well as only a few interfering objects, it is made for the installation of a photovoltaic system. However, it is important to use high-quality components. In addition to the solar modules, it is above all the right mounting system that makes a good PV system. After all, the system must be able to withstand wind and weather, it must be easy to install and flexible in use, and on top of that, the roof cladding must not be damaged. The further development of our proven IBC SOLAR mounting system – the IBC AeroFix G3 – fulfils all this and more.
Roof penetration-free and flexible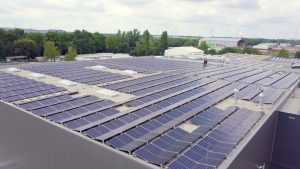 A big advantage: The AeroFix G3 is mounted without roof penetration, without screws or drilling, so that the roof cladding is not damaged. Furthermore, it is very flexible. Modules with lengths from 1500 to 2100 mm and widths from 980 to 1150 mm can be mounted on the new AeroFix G3. This means that even modules with larger dimensions can be used with this assembly system without any problems. And that is a real advantage in times of ever larger wafers. There are six different mounting variants, in which the modules can be mounted both crosswise and upright.
Safe, convenient and practical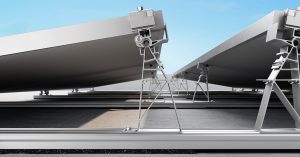 Another aspect that is very important in a mounting system is that the modules are tension-free. Tension in the module can lead to cell damage, which in turn affects the performance of the module. In the case of the AeroFix G3, an integrated tilt joint ensures that this danger is reduced to a minimum, as the modules are guaranteed to be mechanically tension-free.
Another bonus in terms of handling: the wide base rails already have integrated cable ducts. In addition, wide and narrow floor rails can be combined for the first time. The latter is particularly interesting in cases of lower ballasted modules or more stable roof areas, as here it is possible to fall back on the more cost-effective narrow rails in parts.
A true all-rounder, the new AeroFix G3 and in this sense we are looking forward to the next 600 MW of installed systems. For more information about our IBC AeroFix G3, click here . Or take a look at the webinar as part of the pv magazine Spotlight: Sep 23, 2021 11:00 am.