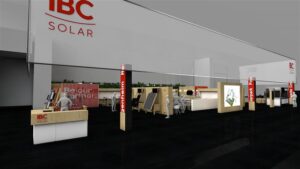 It is this time of the year again: Intersolar Europe 2023 is coming up in mid-June and with it the most important industry meeting of the year. For us, the focus this year is clearly on quality. We will be presenting ourselves at our trade fair stand according to the Cradle to Cradle design principle in Hall A4, Stand A4.470 and A4.570 and will have exhibits in the three market segments Residential, Commercial & Industrial and Solar Parks. A special highlight is also the SUNLAB load table, which demonstrates live on the stand the endurance tests our modules have to pass.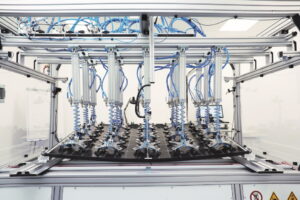 Load test under extreme conditions
In order to be able to guarantee the highest standards, the in-house modules and mounting systems are put through their paces with a total of seven endurance tests in the PV test laboratory, SUNLAB. The load table, which performs a static-mechanical load test of the entire solar module in combination with the mounting, plays an important role in this. This testing process can be observed live at our trade fair stand. They take place three times per day at the stand, where the products have to prove their quality.
Test and convince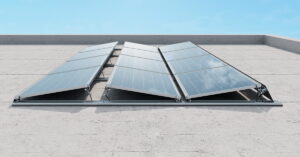 In the area of our mounting systems, there are some small innovations with a big effect. They have one thing in common: In addition to the usual top quality, they are designed for even faster and easier mounting. Coupled with greater flexibility and versatility, they offer important advantages for installation companies and make everyday work much easier, as they guarantee significant time savings.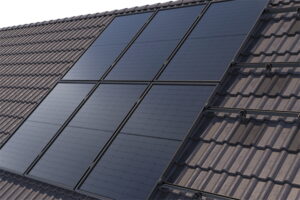 Last year, we presented the aerodynamic IBC AeroFix G3 flat roof mounting system for the first time at Intersolar. Now we have made some improvements that have a big impact. Thanks to the optimisations to joints and connecting elements, installation is even easier and safer. Also we will be showcasing the tried-and-tested IBC TopFix 200 modular system for pitched roof installations. With various clamps, rails, roof hooks and moulded sheet metal tiles, the system is suitable for universal use on almost any pitched roof.
The special feature at our stand this year: In order to see the quality and advantages of IBC SOLAR mounting systems, installers can try out the new and exciting components directly at Intersolar 2023 and install them themselves. The stand will have its own test area for this purpose, where our experts will also be available to answer any questions. Interested parties can try out the clean installation of the Mammut Form S+ sheet metal tiles. This replacement tile with integral roof hook eliminates the need for time-consuming modification and bending of the tiles. Tile breakage and damage to the roof can be avoided. Three different rails can be tested in the trapezoidal sheet mounting area, including those with height compensation on uneven roofs. And at the flat roof area, installers can see for themselves how easy it is to mount various supports.
Focus on sustainability: Cradle to Cradle design principle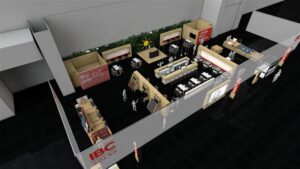 Once again this year, our exhibition stand focuses on sustainability and is built according to Cradle to Cradle principles. This means that the majority of the materials used can be completely returned to the biological or technical cycle after the trade fair without downcycling. For example, wood from sustainable forestry is used for product tables, cabin walls and counters. The aluminium frames are still used in the stand construction and there is no floor at all, which also has a positive impact on the eco-balance. The recycling rate of the exhibition stand is approx. 98 %.
Have we sparked your interest? Our experts are looking forward to having active dialogue at Intersolar Europe from 14 to 16 June 2023 in Hall A4, Stand A4.470 and A4.570.