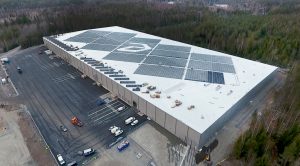 Sweden – this stands not only synonym for Ikea, Abba and elks, but in recent years also for renewable energies. Above all, solar energy is experiencing a boom up in the north. Especially self-consumption systems are in demand. Our Premium Partner Solkompaniet has now installed the country's largest PV rooftop system to date for an online pharmacy.
The new logistics center for the online pharmacy Apotea is a prime example in terms of sustainability. The building in Morgongåva is almost carbon neutral and is designed with the goal to minimize environmental impact. One piece in this puzzle consists of more than 5,500 solar modules of the brand GCL. These produce almost 1.5 gigawatt hours per year – more than Apoteas annual energy consumption. Most of the solar energy is consumed directly, the surplus is sold to a regional utility.
The solar modules on the roof cover an area of 17,000 squaremetres. This corresponds to the size of 2.5 football fields. The entire system weights more than 200 tonnes. 385 helicopter flights were needed to bring all components onto the roof. Along the edge of the roof, some modules have been mounted in a higher angle of 45 degrees. This detail makes the PV plant visible for guests arriving at the parking lot.
To meet the unique requirements of the site, Solkompaniet has opted to use our aerodynamic mounting system IBC AeroFix 10° south, which is specially developed for flat roofs. Besides the fast mounting, the system enables a very light-weight installation with no need for a screw connection into the sensitive roof cladding.
Our congratulations goes to Solkompaniet for installing the largest PV system in Sweden to date!