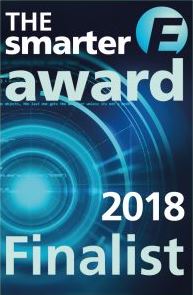 This year we want to grab the triple! Not talking of soccer, but of the Smarter E Award (aka Intersolar Award). Once again we are nominated with an exciting project – and of course we want to bring one of this year's awards home to Bad Staffelstein.
We have already taken the first step in this direction. A panel of experts has nominated our project "Storage for the sewage treatment plant Hillesheim" in the category "Outstanding projects" for The Smarter E Award 2018. Together with nine other finalists, we will be feverishly looking forward to the award ceremony taking place on 20th of June at Intersolar in Munich.
We convinced the jury with an outstanding project that was realised in a sewage treatment plant in 2017. There, an IBC SOLAR battery unit complements an existing CHP plant. The storage system with a capacity of 200 kilowatt-kilowatts (kwh) was installed together with our Premium Partner Schmitz Haustechnik GmbH. With a capacity of 24 kw, it works hand in hand with a CHP unit and ensures an extensive energy independence of the whole sewage treatment plant. Monthly self-sufficiency rates of up to 94 percent are possible, the payback period of the battery unit is considered to take only 6 years.
Not only in our opinion, this is a future-oriented project, which can be put into place in many other places in Germany and will push the decentralised energy supply and energy transition.
Until Intersolar starts, we will cross fingers – for us and as well for all the other finalists!
From June 20 to 22 you can find us at Intersolar in Hall A3, Booth 579.