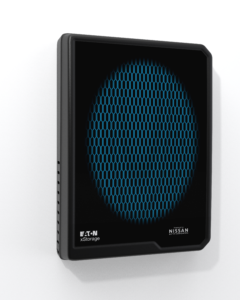 Storage solutions have become very important for the PV industry, and therefore have become a large part of the Intersolar Europe and it's partner trade fair ees. In Munich, from June 20 to 22,  we will showcase our storage portfolio as well as additional services.
Eaton home storage solution
xStorage Home from Eaton, a new storage system that will soon be available in Germany and sold by IBC SOLAR, will be on display at the trade fair. Eaton is entering the storage market with xStorage Home. The battery is especially suitable for home use. The all-in-one DC storage system combines PV inverter and battery in an appealing housing. This not only leads to a clear outside appearance, but also to reduced installation times.
Wide range of storage brands
Whether with a stable, weak or no grid at all – we offer a storage solution for any requirement and of any size, from single family homes to industry grade systems. At this year's Intersolar, visitors may get information on a wide range of brands – from Fronius, SMA, LG Chem, BMZ, BYD to Victron, Moll, Sunlight and Exide. IBC SOLAR has implemented storage products in more than 20 countries since 1982 and has gained valuable experience over the years. Installers benefit from various services that provide support from the design phase right up to the initial operation.
Storage solutions of all sizes
Customised storage solutions and large-scale storage systems will also be an important issue at the trade fair. We do not only offer components for commercial energy and storage solutions of all sizes, but also help with project planning, dimensioning, installation and operation. We are proud to be nominated for this year's "The Smarter E Award" in the "Outstanding Projects" category for one of these customised storage solutions – a storage system for the Hillesheim sewage treatment plant.
Visit us in hall A3, booth 579!