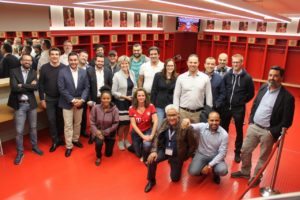 The MENA region (the Middle East and North Africa) is becoming an increasingly important sales market for the German solar industry. The high level of sunlight as well as government support and funding programmes and ambitious climate protection goals are helping the solar market in Arabic-speaking countries to gain momentum.
Our first MENA Regional Partner Summit was held on 22 and 23 June in Munich following this year's Intersolar Europe. For the first time, we purposefully only invited customers from our important markets of the Middle East and North Africa. The aim of this event was for us to strengthen partner relationships and to welcome new customers.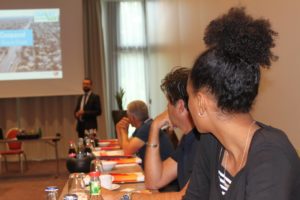 There was a get-together in our hotel directly opposite the trade fair centre to kick-off the event. This was followed by presentations and discussions on storage systems, credit insurance and financing as well as the presentation of a diesel hybrid project of our long-standing Lebanese customer SmartAge.
Generally, PV diesel hybrid systems are playing an important role in the MENA region and will also be used on a large scale to provide companies with a secure and stable power supply. SmartAge has developed such a tailor-made system for its customers with a PV capacity exceeding 400 kW. In addition to the harsh climate conditions and solar technology import restrictions, another challenge had to be met in the tight deadline set by the customer: All components had to be delivered, installed and transferred to the operator as a turnkey solution in just three months. Thanks to a joint effort with the sales and logistics experts of IBC SOLAR, the SmartAge project was finished on time in conjunction – to the complete satisfaction of the customer.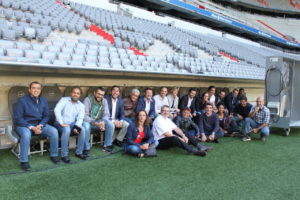 The highlight of the Regional Partner Summit was without doubt our evening in the Allianz Arena with VIP tour including a visit to the players' changing rooms and the players' tunnel. We were allowed to take a seat in the dugouts on the touchline and sit in Uli Hoeneß's regular seat in the stands. All the guests were extremely impressed by the dinner that followed in a VIP box at the Allianz Arena including a IBC coloured stadium lightning at the end.