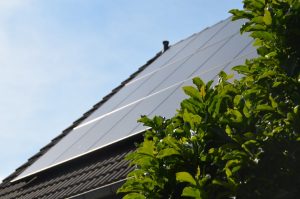 When photovoltaics originated homeowners decided to use solar energy and install their own PV roof system with the conviction of sustainable and green power generation. Little attention was paid to the appearance or design of the PV system. However, thanks to continuously reduced prices of photovoltaic systems in recent years, a change has now occurred. PV systems should no longer only be sustainable and renewable, but should also be elegant in design and visually appealing. As a result, more and more products are being launched on the market for modules as well as mounting systems to meet this demand, such as the IBC TopFix 200 insertion system.
Focusing on the current module market alone shows that optics also counts. The cells of the modules are becoming more and more homogeneous in their appearance. The trend for homeowners is moving in the direction of black modules. After all, you want to be proud of your PV system and your neighbours should see what you have. Your own PV system is becoming increasingly a status symbol, just like the car in front of your home. But what begins with the modules should not be missing from the corresponding mounting systems. Both components form a unit and must fit together perfectly – not only for the sake of safety, but also for the visual appearance.
The IBC TopFix 200 insertion system – special features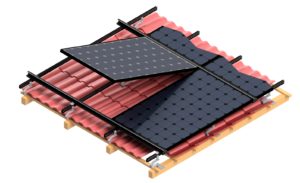 A unique selling point of the insertion system is the minimal amount of black anodized system components needed for installation. Only one rail and adapter profile are required for the mounting of modules. You simply insert the standard frame heights for modules on different positions within the adapter profile. Hence, mounting takes place without the usual clamps. Additionally, the adapter rail can also be retrofitted when defective modules are needing to be replaced. However, this is only possible if the new modules are identical in width and length with the former ones. This offers maximum flexibility and no restrictions in terms of storage. It also results in an a visually appealing completion on the eaves and ridge – just click the panel into the insertion profile. A further bonus: The insertion system is compatible with other tile roof components of the IBC TopFix 200 product family – it goes hand in hand with the proven IBC SOLAR modular system.
Author: Johannes Cayé (Product Manager)