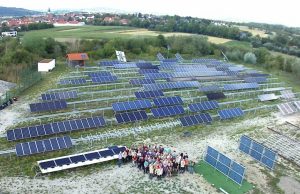 Treating humans and nature with respect is the ultimate rule for Scouts. It therefore makes sense that they would also want to find out more about photovoltaics and spend a day with a leading industry expert. A young group of scouts based in upper and middle Franconia, Germany grabbed this opportunity with both hands. As part of their theme day "climate", the young adults visited our competence center in Bad Staffelstein. In addition to an insight into the company's history, the main focus was of course on solar energy. What shouldn't be missing in all this theory? Putting it into practice of course!
Mounting an IBC AeroFix system, fixing roof hooks with a cordless screwdriver and drill, test the stability of a module and taking a look at our test laboratory. These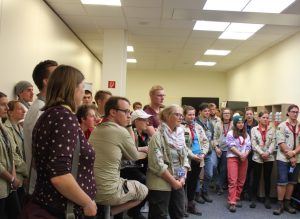 are a few examples from the program for the Scouts who visited us during last week. After a short welcome and introduction from our board member Dr. Fred Friedmann, the young Scouts were separated into four groups und found out everything worth knowing about photovoltaics. They seized the opportunity and asked our colleagues and PV experts numerous questions. A highlight was a visit to our very own test facility towards the end of day!
We were thrilled to have the Scout group visit us and wish them loads of success for the future!