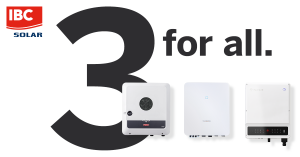 Everyone is currently talking about hybrid inverters, i.e. the combination of photovoltaic and battery inverters. No wonder, because they offer decisive advantages. These devices are particularly efficient, flexible and combine two essential products of a photovoltaic system – the inverter and the solar battery. Conversely, for the user this means that both space and costs are saved and, of course, less installation work is required. Another plus point of these combination devices is the possibility of a back-up function in case of an emergency.
The purchase of a hybrid inverter is definitely worth considering, because these devices are reliable and the demand is growing. Manufacturers such as Fronius, Sungrow and GoodWe have also found this and launched their hybrid inverters this year. Since our experts at IBC SOLAR are also convinced of these devices, we were naturally really looking forward to testing the products. It is true that we have a hybrid inverter from each of the manufacturers in our portfolio: Fronius' GEN24, and the GoodWe ET to the one from Sungrow. What they have in common is simple and quick installation with perfectly matched technology. Plus the price-performance ratio is also rather impressive.
To find out which hybrid inverter best suits your PV system, simply visit our Highlights 2020 page or one of our webinars. In the webinar, we explain the respective advantages and show the differences between the devices. Simply register, login and watch – on the 21st of August 2020, from 10h00-10h30.