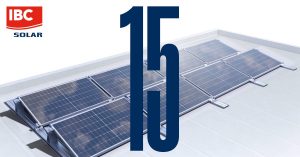 Module damage on the roof is unquestionably annoying and can quickly become stressful. It is small consolation when the product guarantees are still effective and one can in theory call the manufacturers to get everything done. It actually sounds pretty simple. Unfortunately, practice shows that the manufacturers of the various components sometimes do not agree which guarantees should apply to which product. Discussions are inevitable in these situations. The new combation warranty from IBC SOLAR provides a remedy here and allows stress-free processing in the event of damage.
We regularly report about the quality testing that our products have to go through in the SUNLAB PV test laboratory. This is how we guarantee that all components of a PV system also keep their promises. In order to achieve the best possible quality of the individual components, the products are also tested together: i.e. mounting systems and modules in combination. The new 15 year combination warranty – together on IBC SOLAR mounting systems and modules – proves that this in particular works perfectly together with IBC SOLAR products.
The IBC SOLAR combination warranty ensures that damage that occurs in combination of IBC SOLAR modules with IBC SOLAR mounting systems is covered – for 15 years. The highlight: There is only one contact person and guarantor in the event of damage. Because everything should be as easy and stress-free as possible for the customer. With the combination warranty from IBC SOLAR, you not only receive a particularly long performance warranty, but also uncomplicated processing and more security, should any damage occur.
Further information
We'll tell you everything you need to know about the free combination warranty in our webinar on 11. September 2020 at 10 a.m. as part of our Highlights 2020 website. This way you will learn all the advantages of this unique product.