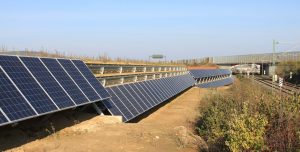 Noise and sound barriers are available in a variety of materials and shapes: From concrete walls to metal applications to glass or wood solutions. One of the most environmentally friendly solutions was installed last year in Lichtenfels, Upper Franconia. To achieve this, the noise barrier in the new development area in Reundorf consists of a green side as well as photovoltaic modules from IBC SOLAR – it doesn't get any greener than this.
An effective noise protection with an ecological ulterior motive. Last year, a completely new variant was chosen for the noise barrier in a new development area of Upper Franconia. A noise barrier equipped with photovoltaic modules was erected along 330 meters of railroad tracks. However, the green solar power is only part of the noise protection on one side. This is because the residents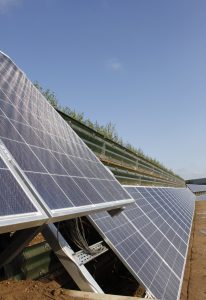 of the adjacent construction area are not looking at the PV modules, but at a green wall and thus at a piece of nature. In addition to increased environmental awareness and the visual benefit, this variant also takes up relatively little space. At the same time, you not only get the noise protection you need, but also a solution that benefits the conservation of various species. At IBC SOLAR, the latter is always an integral part of our solar parks, because green solar power and biodiversity go hand in hand.
The city of Lichtenfels enlisted the support of two experts from the region for this project: In addition to IBC SOLAR AG, which handled the planning as well as the procurement and installation of the solar modules, Naturawall, a manufacturer of systems for green noise barriers, was also an important team partner. The photovoltaic system installed as part of the project was aligned in such a way that it supplies all 48 construction sites in the new development area with environmentally friendly solar power. For this purpose, 366 modules were used, which achieves a total output of 95.16 kilowatts. This means that the residents of the new housing development benefit twice over from their noise barrier.