Innovation, experience, tradition and courage – Meyer Burger stands for all of these. With almost 70 years of company history and 40 years of experience in photovoltaics, the Swiss PV expert is one of the industry's original faces and has set significant technology standards throughout its history. Recently, Meyer Burger also became a partner of IBC SOLAR. This is an opportunity for us to take a closer look at the company and its latest goals.
Since the company was founded in 1953, Meyer Burger has developed the machines to establish some of the latest technologies in the PV industry: from the diamond wire saw for wafer production to machines for the mass production of PERC cells and stringer machines for module production. The fact is that the company's entry into photovoltaics set an important and new course for the industry. In the process, Meyer Burger managed to surprise again and again. This is also the case with its latest business model, because from 2021 the Swiss expert which has production facilities in Germany and subsidiaries in Asia and the USA will enter the production of solar cells and modules. The goal: to lead photovoltaics into a new age worldwide. The focus: in the long term, a complete PV value chain "Made in Germany/Europe".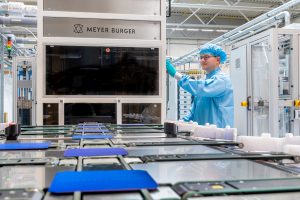 Meyer Burger's expertise in heterojunction/SmartWire technology serves as the basis. The use of these technologies in solar modules is not only visually eye-catching, but also completely eliminates the use of lead. At the same time, Meyer Burger modules achieve very high efficiencies and are subject to very low degradation. The Swiss expert is producing three products as a first step. A bifacial module with 385 Watt peak (Wp), a module with black backsheet with up to 395 Wp and one with white backsheet (the most powerful) with 410 Wp. The "Made in Germany/Europe" high-performance modules for private homes can already be ordered in our Online Shop. The modules will be available from summer this year. The guarantee promise is also impressive, with a product and performance guarantee of 25 years, and even 30 years for the bifacial module.
At the top of the list is the company's vision of emission-free energy generation from sunlight. Around 800 employees at Meyer Burger are working to make this a reality. We at IBC SOLAR are also looking forward to making a contribution. True to the Meyer Burger motto: For everyone. For sustainability. For a solar future!