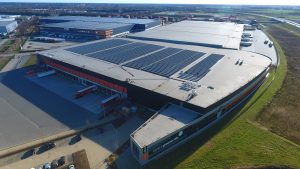 It is becoming increasingly important for companies to make a contribution to climate protection while at the same time expanding their perception in the area of corporate social responsibility. In addition, the potential of photovoltaics is enormous, especially in the commercial sector, so that many companies throughout Europe are investing in green energy. The prerequisites are certainly given with correspondingly large roof and commercial areas. This was also the case for the Dutch company Capi. Therefore, the manufacturer of sustainable design flower pots did not hesitate for long and invested in a PV plant with a capacity of 1.69 MW.
For some companies, "going green" is virtually a programme. In the case of Capi Europe, this can already be seen in the sustainable production of its quality products. The production of the flower pots, for example, is 100 % climate-neutral. It is therefore all the more obvious that a complete PV system is also used for parts of this. And with an annual electricity consumption of around 4,000,000 kWh, this makes perfect sense from an economic point of view. The solar electricity generated on the roof helps the company to save on their electricity costs and reduce CO2 charges.
For the construction and planning of the system, Capi was supported by the Dutch subsidiary of IBC SOLAR. Our partner SMA provided the inverters for the project. A total of 4,560 modules have been producing around 1.5 million kWh of solar power per year since March of this year. Among other things, the system also consists of IBC SOLAR's proven and proprietary mounting system IBC AeroFix. The environmentally friendly electricity covers around a large part of the company's electricity needs and is used both for the actual production and for the company's offices. You can't get any more CO2 neutral than this.