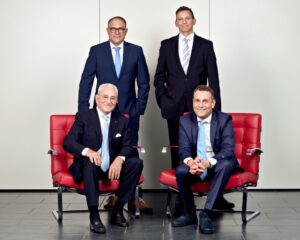 During the summer of this year, we added the position of CSO to our Executive Board. Today we would like to take the opportunity to introduce the quartet to you in more detail. Alongside Udo Möhrstedt, our founder and CEO, there is now a strong trio consisting of: Lars Degendorfer as CFO (Chief Financial Officer), Stefan Horstmann as COO (Chief Operations Officer) and Patrik Danz as CSO (Chief Sales Officer).
Udo Möhrstedt: The founder
Mr Udo Möhrstedt is one of the pioneers within the solar industry and has been committed to the development and expansion of photovoltaics for more than 40 years. In addition to his board activities at IBC SOLAR, the trained physicist is also active in several industry associations and has received many awards for his commitment, including the Federal Cross of Merit in 2012. Today, he is responsible in particular for the area of Corporate Affairs. In this context, IBC SOLAR is also committed to the interests of photovoltaics and the entire renewable energy sector on a political level.
Lars Degendorfer: The finance specialist
Lars Degendorfer has a degree in business administration with a focus on finance, banking and investment management and has been a member of our Board of Directors since 2019. At IBC SOLAR, he is the man for numbers. National and international financing are a core aspect of his activities. His responsibilities at IBC SOLAR include Commercial Management (consisting of the Finance, Controlling and Facility & Quality Management units), Legal & Compliance, Human Resources and the IBC SOLAR Invest GmbH unit.
Stefan Horstmann: The professional for processes and project management
Stefan Horstmann was appointed as a new member of the board in June 2020. The trained engineer has many years of experience in Supply Chain Management and IT. His activities focus in particular on Process Design, Project Management and Organisational Development. Accordingly, he is responsible for the Supply Chain Management, Product and Innovation Management as well as IT at IBC SOLAR. In addition, Mr Horstmann is in charge of SunLab Quality Center GmbH.
Patrik Danz: The sales expert
The newest member of the board is Patrik Danz, who has completed the board since summer 2021. As a trained engineer, he can look back on many years of global experience in the lighting technology industry, where he was responsible in particular for the areas of Sales & Marketing, Product Management, R&D and Quality. At IBC SOLAR, he is responsible for the National and International Sales units in the area of trade, services and project business with the associated support units Corporate Sales Services and Aftersales.