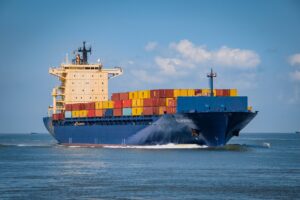 Global sea freight is the most important mode of transport for world trade. In terms of weight, for example, around 90 percent of goods transported across borders today are handled by sea. This is hardly surprising, as the advantages are clear due to the high level of economy and security. However, the success of sea freight is also dependent on many factors. At the same time, the industry is currently facing enormous challenges that are leaving their mark worldwide, leading to high transport costs and, unfortunately, also to delays.
Since the beginning of the Corona pandemic, the situation in the Asia-Europe trade has been highly tense. The very strong demand for sea freight from Asia to Europe in combination with the insufficient capacities of the shipping companies currently lead to an extremely high utilization rate in the shipping traffic. In addition, empty containers are in short supply. Standard as well as special containers are hardly available due to the high demand and volume shift by shipping companies – and the bottlenecks are getting bigger every day. Unforeseen events, such as an Ever Given stuck in the Suez Canal, as in the spring of 2021, and also the Corona cases that keep cropping up around the world, leading to port closures, for example, naturally exacerbate the situation.
The consequence to date? A massive and almost weekly price increase as well as a high delay rate of the ships, which are often booked out 4-6 weeks in advance. And unfortunately, we at IBC SOLAR are also noticing this.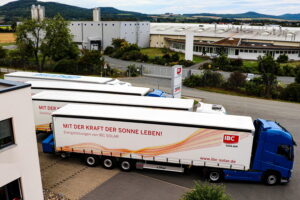 The facts at a glance
Under normal conditions, it takes an average of about 40 days for a sea freight container to be refilled after it has been emptied. Currently, this value has increased enormously and amounts to 52 days. Experts are even forecasting a further increase and estimate that this figure will reach around 60 days in the near future. This corresponds to an increase in charging time of 50 percent.
In this context, currently only 25 percent of ships on the Asia – Northern Europe route make it to the port of destination on time. The majority are delayed by an average of around eight days. In addition, more than eight percent of the shipping trips on this route were cancelled in October.
There are also many challenges in global ocean freight when it comes to pricing and arrivals. For example, it is now not uncommon for the port of arrival (POD) to change two to three times. This is problematic in that it makes it difficult to plan the on-carriage of containers. At the same time, container prices remain at a very high level. In addition, contractually agreed prices and deadlines are simply not met.
The significance for IBC SOLAR
It is no secret that we are very dependent on shipping given our portfolio. Accordingly, the current problems on the Asia – Northern Europe route (as in many other industries) are also causing us one or two delivery delays. Whenever possible, we switch to alternative procurement routes such as rail, but these cannot cover the delays caused by sea freight. In addition, we secure freight capacities through long-term logistics contracts. However, we can only hope that the situation will ease in the not too distant future.