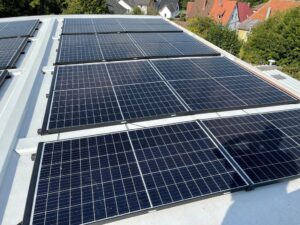 Take a creative idea, environmentally friendly and recyclable materials and a complete PV system from a single source from IBC SOLAR: The result is an extraordinary residential or office complex in a minimalist and futuristic design that cannot be surpassed in terms of sustainability! This is made possible by the cooperation between IBC SOLAR and SpaceFounder, a company from the Upper Franconia region that specializes in the construction of so-called "Spaces". And the first joint projects are already being completed.
Modern, exclusive living as simple, individualized and sustainable as possible. That is the idea behind the "Space concept". Probably the biggest difference to the classic house, apart from the design, lies primarily in the material used. The outer shell of the Spaces is made of specially coated composite material, which makes it extremely light, strong and durable. Not to miss, it is also fully recyclable and has extremely good insulation properties.
PV for even more sustainability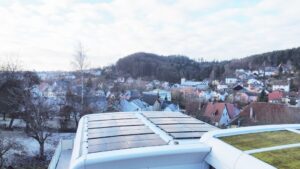 To meet the energy needs of these living spaces as efficiently and environmentally friendly as possible, each SpaceFounder house is equipped with a complete PV system – and this is where IBC SOLAR comes in as a long-term cooperation partner. The challenge? For one thing, the PV system has to fit in with the futuristic overall concept. For another, it is never a standard application as used in "normal" single-family homes. However, the IBC SOLAR components used are quite standard.
Two systems with different approaches
The first joint project was all about self-consumption. A PV system without storage was installed here. Completion will take place this year. For the second project, a comprehensive IBC SOLAR complete system was used: In addition to IBC SOLAR modules and our high-quality IBC insertion system, the components also include storage system as well as an inverter and energy management system – for a sustainable power supply in "space". Another eye-catcher here is the combination of moss roof and PV.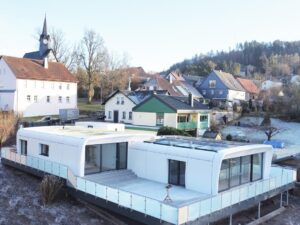 The topic of green roofs is not an isolated case at SpaceFounder. All flat buildings are equipped accordingly, because it not only looks nice, but also has its benefits. In addition, the entire SpaceFounder concept is trimmed to "all electric". This is made possible by innovative heat pump technology. In addition to the PV system and the very well insulated building envelope, this further enhances the efficiency and sustainability concept. And the best thing is that the KFW 40+ applies to Space concepts. Accordingly, subsidies are available, and they are also high.
It is the starting signal for CO2-neutral living. IBC SOLAR and SpaceFounder are already working on further innovative ideas and new joint projects. The next goal: The first house with hydrogen. We are looking forward to it and will of course report on our blog.