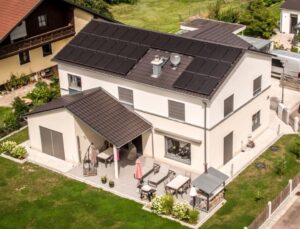 IBC SOLAR celebrates its 40th anniversary this year. During this time, a trusting and cooperative relationship with our Premium Partners has always been important to us. Accordingly, we have always taken into account the experiences, feedback and reports from solar installers. On the occasion of our 40th anniversary, we immediately took the opportunity to conduct a survey among our network of specialist partners in Germany. The results show current trends and developments in the PV market.
What do homeowners and commercial customers value most when buying PV systems and storage systems today, and what is most important to our installers? We asked these questions of over 100 PV specialists and installers in Germany in our market and industry survey.
Rising demand in the commercial sector
To first get an overview of the respective market distribution, we wanted to know from our specialist partners from which segment most of the orders originate. IBC SOLAR's partners are very well represented in both the residential and commercial sectors. However, at 72 percent, the majority of orders for PV systems come from the residential sector. Just under 28 percent of the systems – which of course have much more power – are built on commercial buildings. However, demand in this segment is increasing. This is because commercial and manufacturing companies are increasingly recognizing the high savings potential associated with PV systems. In addition, the government's increased expansion targets will also ensure strong growth in this segment.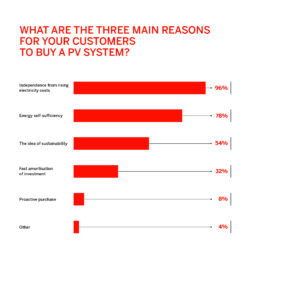 Main reasons for purchasing a PV system
According to the experience of our specialist partners, one of the most important reasons for purchasing a PV system today, both in the commercial and in the homeowner sector, is in particular independence from rising electricity costs (96 percent of mentions). This is followed by energy self-sufficiency (78 percent) and the general idea of sustainability (54 percent). Another important point is the rapid amortization of investments in photovoltaics and storage (32 percent). If these results are compared directly with the reasons for investment during the early days of PV, a clear change can be seen. In the beginning, people invested in solar energy especially because of the feed-in tariff and the resulting profit.
Criteria from the end customer's point of view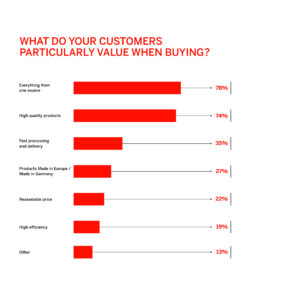 The survey also showed what end customers particularly value when choosing a service provider. For example, according to the PV specialists and installers, the most important thing for the majority of customers is that they get everything from a single source (78.1 percent), i.e. that they have a central contact for the complete system. Another decision criterion for customers is high product quality (73.6 percent). Just over a third of respondents (35.4 percent) cited fast processing and delivery as an important requirement for customers. Local manufacture of the products ("Made in Europe/Made in Germany") plays an important role for 27.2 percent of customers, followed by favorable price (22 percent) and high efficiency (19 percent).
"The results of the survey confirm our corporate philosophy. As a solution provider, we provide high-quality and suitable products from a single source. Proximity to our specialist partners is very important to us. At the same time, we are constantly developing our portfolio. For us, the quality of the products and the dialogue in our specialist partner network will continue to be firmly anchored in our corporate culture in the future," comments Patrik Danz, Chief Sales Officer (CSO) of IBC SOLAR AG.
In the second part, we tell you which factors are most important for the choice of supplier according to our specialist partners and how the market trends and future areas of application for photovoltaics will develop in the coming years.