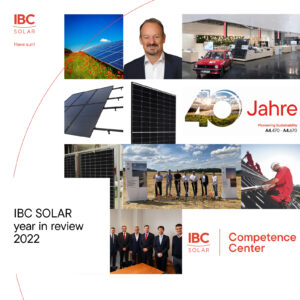 2022 has passed in the blink of an eye and is almost over now. But before Christmas is upon us, let's take a look back at a very eventful year to learn what has kept us busy at IBC SOLAR over this past year.
January to March
Right at the beginning of the year, we were delighted to receive excellent test results for our IBC SOLAR module types. The Fraunhofer Centre for Silicon Photovoltaics examined how our modules react to permanently strong light incidence and high temperatures. A very slight degradation of the modules was the very welcome and above-average result.
The year also started with two exciting major projects in Hungary: IBC SOLAR Energy, the international project division of IBC SOLAR AG, realised two megawatt SOLAR parks with a nominal power of 51 and 45 megawatt peaks. In future, more than 35,000 3-person households will be able to cover their annual electricity consumption through local generation.
March to June
The entire second quarter turned all around our corporate anniversary: 40 years of IBC SOLAR. In addition to many celebrations in Bad Staffelstein, which we will fondly remember for a long time, we were able to present ourselves with a new stand at the first Intersolar in two years: It was built according to cradle-to-cradle principles and therefore sustainable and 98% recyclable. Another highlight at the trade fair was our new anniversary modules, which were designed to mark the company's 40th anniversary. In addition, we were able to present our Aero Fix G3 mounting systems for flat roofs and the extensions of our IBC TopFix 200 for pitched roofs to a wider audience for the first time. We also embarked on the company's new decade with a new logo to lend new lustre to IBC SOLAR.
July to September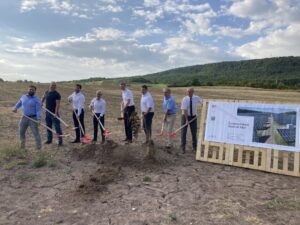 20,800 participants: this impressive figure we were delighted to record in June, when we celebrated the 10th anniversary of our Competence Centre. The demand for face-to-face and online events in connection with consulting services for and the design and installation of photovoltaic (PV) systems and energy storage systems is high and ever increasing. We are happy to be able to contribute to the training of future specialists.
In summer, our region saw the launch of two new solar parks: The solar park in Klosterlangheim with a nominal power of around 6.2 megawatts has been supplying more than 2,000 households with electricity since autumn 2022. And in Sand am Main in Lower Franconia, even 3,500 households will be able in future to draw their electricity from the new solar park located along the motorway. In both cases, the residents of the towns can participate in their solar parks and thus actively help to shape the energy transition.
October to December
In October, we welcomed Dr Dirk Haft, our new Co-CEO. Dr Haft served on the IBC SOLAR Supervisory Board since 2018 and has now joined the Executive Board. We wish to make use of this opportunity to bid him a somewhat belated but cordial welcome!
We were also able to expand our business operations in Poland. Our new local subsidiary has sold the rights to two solar farms with a total output of 120 megawatts to Afcon Renewable Energy. Further projects are planned for the future in Poland and in collaboration with Afcon.
Last but not least, there are new developments to report in regard to citizen participation: Together with our partner EUECO, we have launched a platform that enables local inhabitants to participate in solar farms in their region. A first project was launched very recently in Schnaid near Hallerndorf.
All told, it was a very eventful year for us at IBC SOLAR. We look forward to seeing what is in store for 2023! With this in mind, we would like to wish all readers happy holidays and a prosperous New Year.