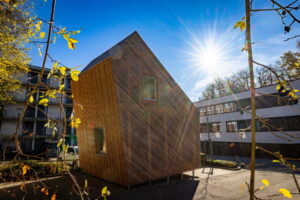 After having told you about our involvement in the Tiny House at the Coburg University of Applied Sciences and our colleagues talking about the cooperation, in this article we are going to focus entirely on the sustainable concept of the Tiny House. For that we spoke with Prof. Dr Hirth from the Coburg University of Applied Sciences.
Prof. Hirth, what inspired you to build a Tiny House as part of your summer school?
The construction sector is responsible for 38% of all CO2 emissions globally, with the consumption of resources continuing to grow. The average living space per person is also increasing. This is despite the fact that housing shortages are becoming more and more acute, and prices for housing are soaring ever higher. The Tiny House is the alternative concept for precisely this. It is largely energy self-sufficient, space-optimised and environmentally friendly because it consists of renewable building materials and was constructed without binding agents that emit greenhouse gases.
What does the "Circular Tiny House" mean?
"Circular" in this context means that the house can be completely dismantled into its individual parts and fully returned to the material cycle. Following the cradle-to-cradle principle, the building can be dismantled at the end of its useful life and does not need to be demolished, so no building rubble is produced.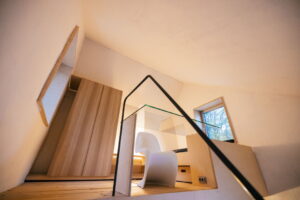 How did the idea come about of making the house as energy self-sufficient as possible with a photovoltaic system?
The house should be self-sufficient during the academic year between mid-March and early December, based on a heat demand of 57 W/K and a maximum heat load of 900 W in the cold months of March and November. Moreover, the energy demand of a household including hot water should be covered. For this reason, we approached IBC SOLAR and, in addition to sponsoring, also requested support with the planning and design of the system and the storage. Ultimately, the planned system with 12 IBC Monosol 370 HCs for a total of 4.4 kWp and the energy storage system with 8 kWh of storage capacity proved to be ideal. In summer, there is even enough electricity produced to operate a charging station for e-bikes in front of the house.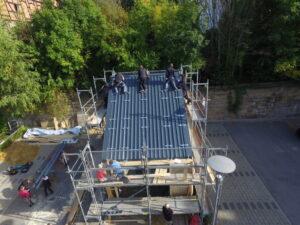 Are there already initial reports from overnight guests who have used the Tiny House to its full extent?
So far, our visitors have stayed at the Tiny House during times when no heating was necessary. They were very satisfied. We will receive further experience and measurement results this year – I am excited myself and it looks promising so far.
We are delighted that the Tiny House project is such a great success. Sustainability in the construction sector is very important and there is still a lot to do in this area. That is why we as part of the PV industry are happy to contribute to supplying housing with even more green and sustainable solar power concepts in the future.