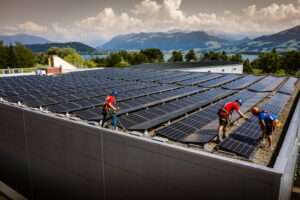 When it comes to occupational safety in relation to PV, the first thing that comes to mind is probably the complex and costly scaffolding of the building that is required for safe installation on a pitched or flat roof. But that's not all. Work on the roof itself, for maintenance etc., must also be secured. That's why we have our AeroFix Latch fall protection system, which is the subject of today's article.
The AeroFix Latch fall protection system was developed in collaboration with Preising GmbH & Co. KG for our AeroFix G2 and G3 flat roof system. The first generation was launched in 2018 to bring more performance to the roof and at the same time fulfil the requirements of occupational safety.
Up to date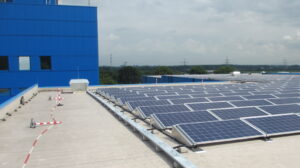 As part of the further development of our Aerofix G3 flat roof system, we also revised the integrated fall protection system in 2022. The IBC AeroFix Latch G3 continues to secure up to three people against falling at the same time and, in combination with personal protective equipment (PPE), offers maximum freedom of movement around the entire PV system. This is a major advantage over a restraint system that restricts freedom of movement.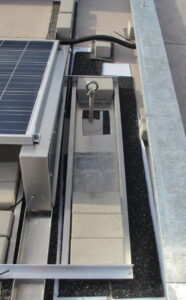 This is made possible by the direct connection to the module array. The area on the flat roof that is at risk of falling can be accessed without additional and time-consuming hooking and unhooking. The roof area can be utilised to the maximum, as no additional space or additional construction work is required. There are also no additional costs for maintenance and servicing, including from other trades, as no additional scaffolding or safety devices are required. The tightness of the roof is not impaired and there is no shading. Of course, both systems can be retrofitted, which means that both flat roof systems, AeroFix and AeroFix G3, can also be retrofitted with the AeroFix Latch and AeroFix Latch G3 fall protection systems. The AeroFix Latch G3 also complies with the European standards EN 795:2012 Type E/C, CEN/TS 16415:2013 and DIN CEN TS 16415:2017-11.
It pays off
Fall protection is worthwhile in any case, because inspections and maintenance are always necessary. A PV system is serviced at least once a year, but this is not the only reason why an accident-free inspection of the roof is necessary. This can include roof drainage, lightning protection testing, ventilation technicians and roof gardeners also need to visit the roof regularly.
Guaranteed installation option
In contrast to other providers, we ensure that the fall protection system can always be connected to an AeroFix PV system in compliance with health and safety regulations from a minimum field size of at least 2 rows and a total of at least 20 modules thanks to our EU type examination certificate and the certificate from the notified body DEKRA.
Planning and installation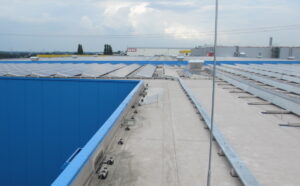 A two-day training course is required for the planning and installation of the AeroFix Latch or AeroFix Latch G3 fall protection system. This training and test is carried out in our Competence Centre. Afterwards, you can purchase the fall protection system directly from us. Why do we do it this way? We want to provide our customers with a certified and safe system of outstanding quality, from planning to the finished product. Once the planning process has been completed, the system is delivered to the construction site pre-assembled.
Do you have any further questions? We will be happy to help you at aerofix_latch_support@ibc-solar.com