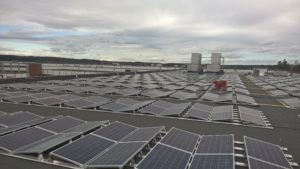 Cold stores require a great deal of energy – mainly when the sun is shining and it is warm outside. The leading Norwegian food logistics provider ASKO has Installed a PV system on the roof of a cold store in Vestby. The system was implemented by Solenergi FUSen AS, a Norwegian Premium Partner of IBC SOLAR. It enhances a current system which was put into operation on the roof of an ASKO dry fuel storage facility in 2014.  The entire system has a capacity of 1 megawatt peak (MWp), producing around 550 MWh of solar power each year which the company will use entirely for its own consumption.
This means that the power consumption of the warehouse is in line with that of the solar energy system: The warehouse requires the energy when the sun is strongest to keep the temperature constant. In order to meet the particular roof requirements, Solenergi FUSen decided to install our IBC AeroFix mounting system which was developed especially for flat roofs. As the system enables the modules to be installed with an east-west alignment, the PV system generates energy constantly over the course of a day which enables ASKO to significantly increase its self-consumption ratio.
The project in Vestby back in 2014 was the largest PV system in Norway to date. The enhancement resulted in the solar energy system increasing in size by up to three times. The self-consumption of the energy produced is helping ASKO and its holding company Noresgruppen to move one step closer to achieving its goal of becoming climate neutral. The company is planning to treble the capacity of is solar energy system during the course of next year.