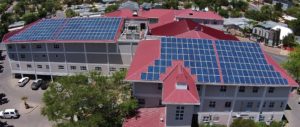 We are expanding our portfolio to include high-performance polycrystalline solar modules of the manufacturer GCL System Integration Technology Co. Ltd. GCL is an international energy company, specialising in clean and sustainable energy production. The company can produce more than 6 gigawatts per year in the module sector; we aiming a long term partnership.
Founded in 1990, GCL has been active in the photovoltaic sector as a silicon and wafer manufacturer since 2005. By now, the company has a market share of 25 percent with an annual capacity of 70,000 tonnes of silicon and 20 gigawatts of wafers and is therefore the leading manufacturer of primary materials for solar cells. The GCL modules intended for the European market are manufactured in Vietnam.
IBC SOLAR has always put great importance on quality products. That's why we are pleased to have found a new partner in the module sector in GCL that meets our high standards. We can only guarantee our customers continuous quality and long-lasting products with maximum yields by working with reliable suppliers like GCL.