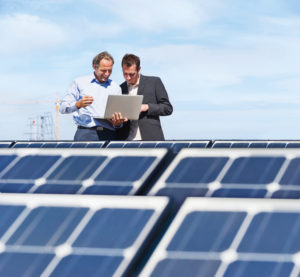 "When we presented our business models at Intersolar Europe two years ago, the feedback was already good," explains Xaver Lindner, our Head of the Solutions Germany department. "We are receiving consistently positive feedback from municipal utilities and energy providers which enable us to gradually expand our business."
Currently we have business relations with over 50 municipal utilities as well as regional and national energy providers and we further expand our cooperation. As a full service provider, we offer our partners customised business models in order to operate successfully on the market for solar power and storage systems.
Xaver Lindner: "The photovoltaics industry is a sustainable business segment that offers great growth and customer loyalty potential especially for municipal utilities. Effective and practical processes are therefore essential for them to gain a foothold in this market." Aside from purchased systems, there is currently an increased demand for rental and lease system models.
Strategic partner in integrating the photovoltaics business
We support municipal utilities and energy providers as a strategic partner in integrating the photovoltaics business segment. In the past two years, PV systems of all sizes have been implemented ranging from systems for single-family homes and commercial buildings to big ground-mounted solar parks. We not only provide a full portfolio of high-quality PV components, but have also developed an extensive range of service and cooperation models especially for the providers. The focus here lies on different practical sales models which the municipal utilities can choose from depending on their individual requirements. In addition to complete turnkey PV packages, these models also include sales assistance such as a solar power calculator which the municipal utilities can use with a white label solution on their own websites.
Additionally we offer support with sales, consulting, planning and assembling of solar power systems through the Germany-wide network of more than 600 IBC SOLAR Premium Partners. This gives regional municipal utilities the advantage that they can offer complete PV systems including service and maintenance with few of their own resources while benefiting from IBC SOLAR's decades of experience. We also offer customised technical, commercial and sales training courses to municipal utilities.