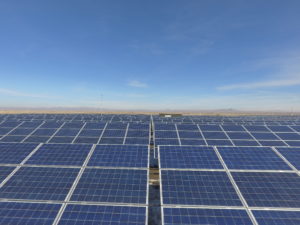 Our Turkish regional company has completed another large-scale solar plant with a total capacity of 3.43 MWp in the province of Niğde. This is the third major project IBC SOLAR Turkey has been realised since the beginning of the year as EPC project. The plant will produce 6 million kilowatt hours of solar power per year for grid feed-in and prevent the release of around 4.000 tons of CO2.
The project has been handed over to the investor Akım Elektronik as a turn-key solution. IBC SOLAR Turkey provided the project design, plant commissioning, energy transmission line, a remote energy monitoring system and relevant operation and maintenance services (O&M) . In addition, a second O&M specialist has signed a ten-year contract for maintenance and repair service activities for the project.
Project pipeline of 100 MWp
Besides Niğde the projects in Gaziantep (5.9 MWp) and Eskişehir (1.1 MWp) has been commissioned since the beginning of the year. Two other plants in Izmir (4.2 MWp) and Adana (4.8 MWp) are soon to follow. For all of its projects, IBC SOLAR Turkey has referred to its large network of local franchise partners, which are spread all over the country. This enables the company to implement several projects simultaneously, as well as guarantee maintenance work after implementation.
The whole project pipeline of our Turkish regional company is about more than 100 MWp. 40 MWp has already been commissioned, the other projects will be put into work until the end of this year.