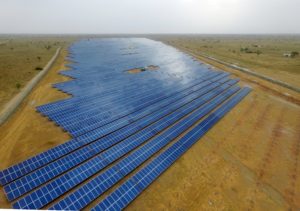 At the end of May, we put the photovoltaic project Phalodi with a total capacity of 22.5 MWp in India into operation. Phalodi is already our sixth project in India. In total, we have 50 MWp installed capacity in the country. In Japan, also in May we realized two new PV plants in the prefectures of Saitama and Ibaraki with a total output of 3.5 MWp. By the end of the year we will have developed, built and sold more than 25 MWp in Japan to private investors.
India:
With the 22.5 MWp project we continue on our road to success in India. The new utility-scale PV plant is located near Phalodi in Rajasthan, which is one of the federal states with the largest amount of installed solar capacity in India. The project was a cooperation between IBC SOLAR AG and our regional company IBC SOLAR Projects based in Mumbai. While IBC SOLAR in India took the the leadresponsibility for the project, the engineering and technical supervision was done by the German parent company, who also provided some key components.
Shailendra Bebortha, our Managing Director in India, is particularly proud that despite all challenges the project was finalised on schedule: "Engineers and construction crew had to fight loose sand and temperatures as high as 45 degrees Celsius." The project also marks the important milestone of installing more than 50 MWp solar capacity in India.
The project's customer, LN Bangur Group, has worked with us on several other large-scale projects.
Japan: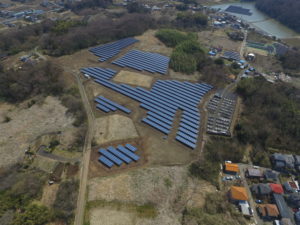 In Japan we have completed the construction and grid connection of another two PV projects in the cities of Hiki (Saitama Prefecture) and Ishioka (Ibaraki Prefecture) with a capacity of 1.75 MWp each. The ground mounted solar plants, developed by us and our Japanese partners were granted a comparatively high FiT of Yen 32 and Yen 27 per kWh, respectively. Both projects have been sold to the investors BRUC Capital and Macquarie Capital on a turn-key basis.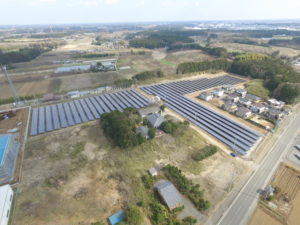 "Since we started our operations in Japan in 2014, we have focused on the market segment of projects up to 2 MWp and are currently working on a consistent pipeline of over 70 MWp with secured feed-in tariff. By the end of the year we will have successfully developed, built and sold to private investors over 25 MWp of installed capacity in the country", says Juan Pedro Naranjo, our Managing Director in Japan.
Besides India and Japan we are currently developing projects in the Philippines, Vietnam and other countries inside the Asia Pacific region with over 400 MWp of large scale plants under development to date. In this sense, be curious about the next realized projects.