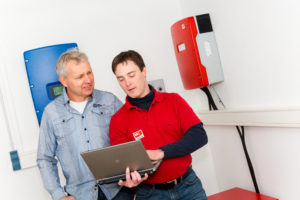 The installation of a PV plant with lithium-ion storage system is a very complex matter in which some requirements must be observed and preparations must be made. For example, there are usually different connection variants for battery storage systems. In addition, the communication and the most needed connection to the Internet often raise questions with the installer. Our international Premium Partners in particular have therefore wanted support in this area.
For example, we have often heard the question whether we would not be able to assist in the initial installation of a lithium-ion storage system with advice and action. That's why we introduced the new "Take-Care packages". The service packages for lithium-ion storage make it easy for our international installers to open up further business cases in the storage area.
"Essential", "Empowering" and "Ensuring"
The installer decides which "Take-Care package" is the right one. Three versions are available "Essential", "Empowering" and "Ensuring". The "Essential" basic package is also the basis for the two other packages. It includes an extensive pre-consultation session with technical pre-selection and sizing of the storage system. Fundamental questions about the application and expectations of the system will be resolved. It is important here to determine whether only the self-consumption needs to be increased or whether the storage system should also provide an emergency power supply.
The "Empowering" package involves IBC SOLAR also providing support with an extensive system design, circuit diagrams and parts lists as well as telephone support to help put the system into operation. The "Ensuring" premium package also includes on-site support with a handover report and an optional workshop for service and maintenance work.
With more than 7,000 installed storage systems of all sizes worldwide, we are an experienced partner. Founded more than 35 years ago, we started as an engineering firm for battery and solar technology. So we are among the pioneers in the storage market. With the new "Take-Care packages" our international partners are now benefiting from this long-standing experience in more than 30 countries.
More information about the new "Take-Care packages" can be found here.