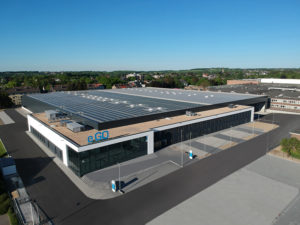 Solar power and electric mobility – they go hand in hand! Electric vehicles only contribute to climate protection if they are charged with electricity from renewable energy sources. This in mind, e.GO Mobile AG is going one step further. The CO2 balance of the electric cars should already be as positive as possible during production. The new manufacturing facility in Aachen was therefore equipped with a photovoltaic system. IBC SOLAR Photovoltaic modules with a total capacity of 1.5 MWp will be mounted on the roof in two construction phases and will help vehicle production to achieve a self-sufficiency ratio of 45 percent.
The investor STAWAG Energie assigned our long-term Premium Partner Avantag Energy with the execution of this project. In order to be able to provide the insulated flat roof with as much capacity as possible, Avantag used the particularly light-weighted mounting system IBC AeroFix 10, on which the modules with east-west orientation were attached. Thanks to this aerodynamically optimised assembly variant it was also possible to use a minimum level of additional ballast to ensure that the static reserve of the building does not have to be exhausted.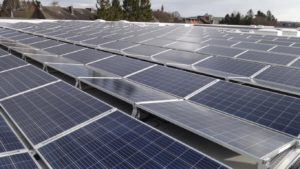 The clean energy production on site is supplemented by a contractual residual electricity supply from STAWAG. The electricity also comes from regional renewable energy projects here such as a neighbouring wind farm. This cooperation with STAWAG offers the benefit for e.GO of being able to use solar power from its own roof from the start of production in the new plant without having to invest itself. This preserves the financial resources for the development of the core business. STAWAG is in turn not only investing in a new system for solar power production, but also in long-term customer loyalty.
Around 670,000 kWh are generated each year with the now completed first construction period and are made available for the production of e.GO electric vehicles. The CO2 saving amounts up to 360 tonnes per year.