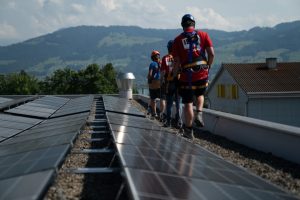 Flat roofs are still of high relevance when it comes to the installation of PV systems. As already explained in previews articles of this blog series, the usage of roofs will change from not-used to used as soon as a PV system is installed. This results in a potential danger that previously safe work paths are now blocked. Therefore, the risk analysis has changed which particularly effects necessary work on roofs. In this sense, it may happen that paths for roof work, for example for the maintenance and servicing of water pipes or climate or ventilation systems which are now within fall hazard areas. In such cases, a safe working condition within this area is important. System operators as well as designated companies are in charge of the responsibility to create a risk analysis.
IBC AeroFix Latch
For this reason, IBC SOLAR developed in cooperation with Preising the fall protection device AeroFix Latch. The device can only be used in combination with the IBC AeroFix installation system. The fall protection device does not penetrate the roof and can be integrated for both: new and existing PV systems. AeroFix Latch is a fall protection device according to the European standards EN 795:2012 Typ E/C and CEN/TS 16415:2013. It is successfully EU type-tested, meets all requirements of the European PSA regulation (EU) 2016/425 and therefore does not require any further tests. This makes the fall protection device AeroFix Latch unique on the market as there is no other comparable system available.
Planning and installation
For the installation of the falling protection device, the following conditions need to be fulfilled: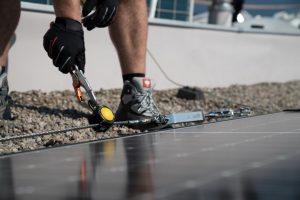 not more than 5° roof pitch
static friction coefficient ≥ 0,2
connected module fields with at least 20 overlapping solar modules
The entire system can secure up to 3 people at the same time (see manual). The total weight needs to be ≥ 1760 kilograms and additional weight needs to be placed at the predefined positions.
However, there is one additional aspect that mounting companies and Premium Partners also need to bear in mind. Before planning and installing the AeroFix Latch, a specific training course for the installation of the fall protection device is required. This also applies to recurring inspections. IBC SOLAR holds specific seminars on a regular basis. In addition the system house also supports with the calculation and planning.
The specialties of AeroFix Latch
AeroFix Latch is a cost-effective and practical solution in comparison to conventional safety measures, like for example the collective protection. In addition, the integration into the IBC AeroFix mounting system offers a number of advantages: First of all, no additional space and no additional construction measures are required for the fall protection device on the roof. There is therefore no impact on the roof strength and no undesired shading occurs. This not only saves money, but allows maximum use of the roof surface area, since it can be laid right up to the edge of the roof. Secondly, no further costs are incurred for scaffolding or additional safety devices for the maintenance of PV systems. The fall protection device AeroFix Latch is available within the EU, including Switzerland and Norway.