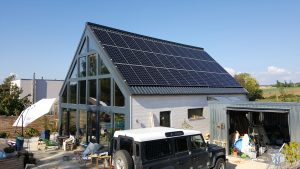 Power-to-heat: heating with electricity has long been considered uneconomical and harmful to the climate. With the energy transition, the focus is once again on heat generation using self-generated green electricity. Both efficiency and cost-effectiveness are now under good auspices. Sector coupling is moving more and more into the spotlight and is already showing what our future green energy system can look like.
The negative image of electrical direct heating systems stems mainly from the time of night storage heaters. Dirty coal and nuclear power was produced at night because the large power plants could not be shut down.
Today it is an entirely different picture: The electricity is generated cleanly by means of photovoltaics and hot water boilers and electric underfloor heating serves as "day storage stoves" in the home. PV systems do not have to be closed off, the solar power is fully used. Support for times with insufficient generation comes from the public network. In the annual energy balance, the technology now outperforms the heat pump. Our partner my-PV, for example, offers heating units for hot water production as well as control units that can make a fully electric house possible!
Which houses are suitable for this?
For a single-family house that has been newly built using state-of-the-art technology or has been professionally thermally refurbished, a water-based heating system is no longer sensible in terms of performance and material used during installation. The heating load required usually fluctuates between three and six kW. Conventional heating is oversized for this low output.
For buildings with a specific heating requirement of 50 kWh / m² per year (low-energy house) or less, there are now better, simpler and cheaper options. You do not invest a large sum for the building services in the basement, but instead take part of the budget in order to fill your available roof area as completely as possible with photovoltaic modules.
How big must the photovoltaic system of a solar-electric house be?
In a standard single-family house, the average annual energy requirement for space heating is around 4,000 kWh. This roughly corresponds to the amount of energy that is required for electricity, hot water generation and for electric mobility. In order to be able to largely feed the energy supply of all these four "sectors" from your own photovoltaic system, the system output is typically 10 kWp. With modern modules, however, only 50 square meters of space is required (assumption module output 330 Wp, 1.6 m² module area). An area that is usually readily available in detached single-family houses.
How is the heat brought in?
Heating can be provided by using electrical heating mats in the floor, wall or ceiling. These are significantly cheaper than water-based underfloor heating. In addition, most of these products can also be installed under existing screeds. For renovations, this has the advantage that only the floor covering is renewed and the entire structure does not have to be torn down and replaced. In addition, temperature control in rooms such as the bathroom can also be achieved by using infrared panels. In general, a storage mass such as the floor, wall or ceiling is always preferred.
Furthermore, there is an infinitely variable heating element for the hot water boiler. It uses the excess energy from the photovoltaic system and uses it to heat the process water to the desired temperature. The seamless control ensures that unnecessary, expensive electricity is not drawn from the grid for heating as long as enough green energy is available from your own roof.
If you are as fascinated by the topic of sector coupling as we are, just have a look in our Online Shop! In addition to the classic products for photovoltaic systems, you can also find charging stations for your e-car and of course all my-PV products related to heat coupling.
Author: Marcel Lang (Product Manager)