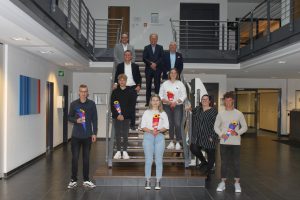 Every year – in September – the new apprenticeship period starts. According to the Chamber of Commcerce of Upper Franconia, this year around 2,592 young women and men began their apprenticeship on the 1st of September. We were also able to welcome five new junior employees to the IBC SOLAR family last week. The prospective industrial clerks Sophie Böhmer, Samuel Gradl, René Herrmann and Laura Tluczykont and the future IT specialist Jonas Ring will gain insights into the various fields of work at IBC SOLAR and can look forward to an exciting training plan.
The new colleagues now form the fifteenth generation of trainees at IBC SOLAR. When the first apprentices began their training at our company in 2006, the solar industry was just about to experience its greatest growth. Even today, in times of energy transition and climate crisis, the industry is still one of the most important growth markets worldwide, so the demand for skilled workers continues. There is no doubt that exciting times lie ahead. So we are of course very excited about the reinforcement in the team.
Over the next three years, the prospective industrial managers will work in various departments such as project business, logistics, sales, purchasing, finance, human resources and marketing. In each of these departments, they are deployed for several months following their individual training plan in order to learn the wide range of tasks in the profession in a practical manner.
This year, in addition to the industrial clerks, an IT specialist for system integration will start an apprenticeship at IBC SOLAR. Over the next three years, his training plan will also take him to several departments, but mainly to IT Services. The new trainees will receive their knowledge not only from the trainers in the various departments, but also from former apprentices who are still employed at IBC SOLAR. This naturally makes us proud as a company.
We would like to take this opportunity to warmly welcome our five new colleagues to the IBC SOLAR family!
Online tip: Everything you need to know about training at IBC SOLAR can be found on our website in the "Careers" section
Video tip: Click here for a short film that provides an insight into our company.