Quality and safety in combination – this is what we at IBC SOLAR stand for, not only when it comes to the combination of our modules and mounting systems. Even when purchasing the smallest products, we pay attention to the highest standards in order to guarantee our customers long-lasting quality connections. This also includes the fastening solutions from EJOT. The specialist for fastening technology has subjected their products to a long test phase. The result is professional applications for the construction industry, such as in the outer shell of buildings or an anchoring solutions for technical plant systems inside buildings. We at IBC SOLAR have also been relying on the quality promise from EJOT for 8 years now. Reason enough for us to take a look behind the scenes and introduce you to the group of companies based in Germany.
Made in Germany – consistent product quality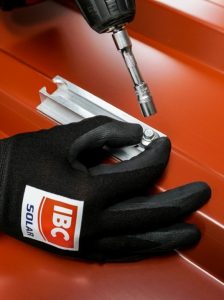 Founded around 100 years ago, the Westphalian company has developed into an internationally operating global corporation with around 3500 employees. The majority of the EJOT portfolio is still developed and even produced in Germany by its own research and development department.
With the Construction Division, EJOT serves selected market segments of the construction industry. The pursuit of high product quality is not an end in itself for EJOT. Rather, the user benefits from the approximately 24,000 products consisting of screws, anchors, bolt anchors as well as more complex component groups. Long-lasting quality connections offer the best protection against costly complaints. That is why the strategic product lines are produced according to the highest quality standards. Safe assembly thus also means low defect costs for the customer. Our product manager at IBC SOLAR, Christoph Dorscht, also knows this: "IBC SOLAR relies on the thin sheet metal screws from EJOT for the fastenings of our PV trapezoidal sheet metal brackets and for metal connections in our flat roof systems, because the possibility of direct chipless screwing without pre-drilling gives us a great assembly advantage for our customers. In addition, there are no unwanted metal chips on the roof. Furthermore, we were convinced by the technical load values of the building approval. This means that the number of fasteners can be particularly economical."
With innovations to success
In this regard EJOT leaves nothing to chance – customer needs are identified at the place of action: on the construction site. The communication from the market as well as its requirements to the development departments are ensured by a regular exchange of technical experts with specialists and users from the entire international construction industry. In this way, innovative product solutions are created that offer clear added value and ensure enthusiastic customers. Dorscht comments: "In the case of solar fasteners for steel roof substructures, we also rely on EJOT solutions for steel types above a certain degree of hardness, because the load values of the products to be achieved are simply convincing. In general, we encounter the topic of material quality more and more often, especially with new buildings. Therefore, one should always pay attention to high-quality components. Another advantage of EJOT products is that they can be screwed in directly without the need for pre-drilling. In project implementation, this saves valuable time for our customers."
Author: Alexandra Oberst, Marketing Manager IBC SOLAR