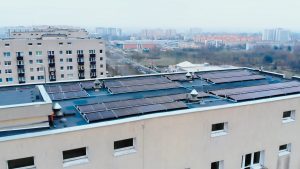 Since March 2021, over 30 people have already participated in free workshops organized by IBC SOLAR Polska in cooperation with CW Lundberg, a producer of complete roof protection systems. During one-day training, participants have the opportunity to learn about a modern solution for flat roof installations, developed jointly by both companies, using a non-invasive and ballast-free mounting system.
The training program includes presenting various types of fasteners used in photovoltaics, as well as examples of calculations of how to assess the snow load or wind impact on the future installation. A separate panel is devoted to the role of the assembly system in the PV project and the rigorous tests to which all assembly structures produced by IBC SOLAR are subjected. After completing the training, each participant receives a license authorizing them to install CWL tiles (without this license, the manufacturer does not provide a guarantee for its products).
Innovative ballast-free constructions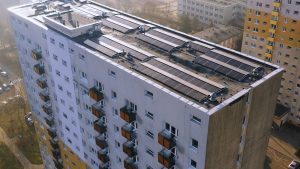 During the workshops, the organizers present the assembly system developed as a result of cooperation between IBC SOLAR and CW Lundberg. It uses the universal and lightweight IBC TopFix 200 mounting structure for pitched roofs and the reliable IBC AeroFix mounting system for flat roofs. This combined structure is attached to the roof surface with the so-called non-invasive mounting brackets provided by CW Lundberg. These are special plates welded with bitumen felt to the waterproofing layer of the roof. Mounting structures are then attached to them. This solution has been used, among others in the project of the municipal solar power plant in Poznań launched at the end of last year.
How to sign up?
The workshops are organized by IBC SOLAR and CW Lundberg with the support of the Eko Projekt Training Center. They are held in Dzierżoniów, they are open and free of charge, but the order of applications decides about participation. The next training dates are May 11, 18 and 25, 2021. Registration for the event is accepted through the IBC SOLAR Polska website, in the contact tab: https://www.ibc-solar.pl/o-firmie/formularz-kontaktu/. In the contact purpose field, please select Training in weightless structures, and in the message field, enter the preferred date of the training.
Other IBC SOLAR Polska trainings
IBC SOLAR has been operating on the global market for almost 40 years. As a leading wholesaler and supplier of systems for photovoltaic and energy solutions, we have more than five gigawatts of installed capacity, a network of 15 international subsidiaries and 1,000 partners, and a portfolio of impressive implementations around the world. We are a community of experienced specialists and we want to share our knowledge with others. We invite you to visit our competence center, where you can check upcoming webinars and sign up for selected events.