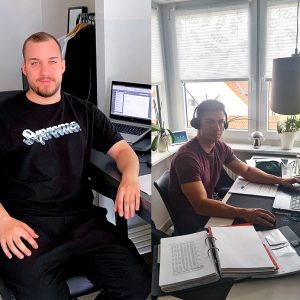 Currently, working from home has become part of everyday life for many employees. For us as trainees at IBC SOLAR, Corona also means changes in our everyday working lives. But what exactly do these changes look like? We'll tell you…
Some time ago, our first days in the home office began. Working from home was completely new, especially for us trainees. After all, we often accompany a colleague from a department, especially when we haven't spent too much time there yet. In times of Corona, this is unfortunately no longer possible. Apart from great challenges, the home office naturally also brings one or two advantages: from working in comfortable clothes, to the meal that can be quickly made in between, to the little things in the household that can be quickly done during the lunch break.
However, we are used to working in the office and being in constant exchange with our colleagues there. Instead of meetings in conference rooms and conversations with colleagues, it's now communication via teams. Something we had to get used to, especially at the beginning. But after a short time it all worked out.
Working on our tasks is also possible without any problems in the home office. It also helped that IBC SOLAR provided us with all the necessary resources. Thanks to headsets, monitors and the like, we could and still can work from home as usual and effortlessly.
Of course, there are one or two tasks that cannot be done so easily in the home office, such as our internal mail with various letters and forms. This is not so easy to distribute in the home office. That's why we come into the office from time to time and after consultation with our colleagues.
Change of department?
In order to get to know the entire company and all departments during our training, we change departments at regular intervals. What is not a problem under normal circumstances becomes a bit of a challenge in the times of Corona: before, the colleagues could simply show us at their workplaces what they spend their day doing and what their work involves. Now the whole thing looks different: You can no longer just walk through all the offices and introduce yourself or go over to a colleague and ask something. That's why our calendars are now filled with several appointments where colleagues introduce themselves and their work online.
Vocational school?
Like work, teaching now takes place from home. The teachers send us all the documents a few days in advance so that we can print them out in time. Using common programs like Excel and Word, the teachers could easily implement the lesson topics and present them to us via teams. This has also kept us in contact with our classmates so far.
Conclusion:
Even though modern technology makes mobile working quite possible and we are provided with all the necessary means for this, it is still a big difference to working in an office, with a colleague next to you or directly opposite. Although we can rely on our colleagues without exception during this unfamiliar time, we are looking forward to "soon" being able to work in the office again as usual.
Authors: David Meindlschmidt and Nils Liebner (2nd year apprentices)