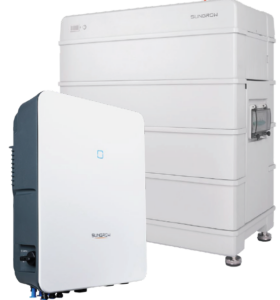 In recent months, there has been much turbulence on the global market and also in the PV industry. Persistent component shortages and delays within the supply chain have caused and continue to cause dissatisfaction. Sungrow is also feeling the effects of the global crisis, but the manufacturer of hybrid inverters and batteries is constantly working on solutions. Sungrow has thus announced a generational change in the hybrid inverter at the beginning of September and is currently supplying other battery cells on the Asian market. We offer tips on how to ensure trouble-free installation in the field.
Sungrow SBR battery
As part of SBR battery production, Sungrow has qualified a second cell supplier in order to ensure delivery capability. This new cell – like the one from the current cell supplier – will continue to be processed by Sungrow. In terms of quality, both modules now available on the global market are identical.
However, if the SBR battery is now installed in the field, it must be ensured that modules from the two cell suppliers cannot be mixed. Only Type 1 or Type 2 cells may be installed in a tower.
Sungrow hybrid inverter
The Sungrow SH-RT hybrid inverter has also been further developed due to a lack of components. The previously available V11 variant will be replaced by the V112 with immediate effect. It differs not in the performance classes, but in the software. While Version V11 will be compatible with the recently published Sungrow Wallbox by means of a software update from October 2022, this does not apply to the new Version V112. Although the Wallbox can therefore be integrated, it then charges constantly with 11 kW; it is not possible to use the individual modes, such as PV surplus charging.
Furthermore, it will not be possible to connect Versions V11 and V112 in series. The typical variant – connecting several devices in series via RS485 – is therefore still only possible with identical devices. However, it is still possible to connect up to five devices in series – even with Version V112.
Another special practical tip in conjunction with a Wallbox: if you still want to use the full scope of the Sungrow Wallbox, but no longer receive a V11 device, a new variant has been announced for Q2/2023 that fully supports the Wallbox again. Alternatively, with our own energy management system efa:home, we offer the option of integrating the V112 hybrid inverter into the EMS and using a variety of different Wallboxes.