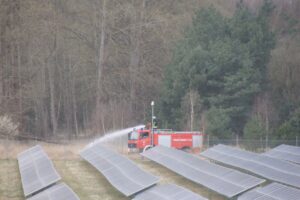 Solar parks are often surrounded by forests. In view of rising temperatures and prolonged drought, the risk of forest fires also increases here in the warm months. Accordingly, one must be well prepared for an emergency. Together with our O&M customer CEE Group, we wanted to know how quickly the fire brigade would get to the solar park in such an emergency, how they could enter the plant, which safety criteria were observed and how the fire brigade generally deals with solar parks in an emergency. The scene: the Staats solar park in the district of Stendal, Saxony-Anhalt, Germany.
If a forest fire breaks out near a solar park, things have to move quickly. That's why exercises together with the fire brigade responsible for the respective location are important and necessary. IBC SOLAR already visited the Staats solar park in spring 2020 and August 2021, among other things to familiarise the local fire brigade with the plant and to make initial preparations for the exercise. With a Corona-related delay of one year, the time finally came in March 22 and the emergency could be rehearsed.
The exercise in detail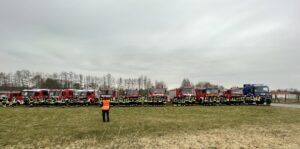 One part of the large-scale exercise was the rescue of a simulated unconscious person in the southern part of the facility who had previously reported a forest fire. Furthermore, a simulated forest fire was fought in the south and measures were taken to protect the plant from it. In this context, the control centre in charge received several calls from citizens from Staats in the exercise scenario, who reported a strong development of smoke with a glow of flames near the solar park. Another caller also reported this. This caller was directly at the solar park and was coughing very hard. The connection suddenly broke off, so there was a suspicion that he had suffered a medical emergency.
All fire brigades of the Hansestadt Stendal district as well as a truck with water tanks from THW took part in the exercise. Specifically, there were about 15 emergency vehicles, about 83 emergency personnel and four exercise examiners from the Stendal Public Order Office. The conclusion during the final briefing was extremely positive. During the test, which lasted 2.5 hours, the task forces were able to complete their tasks as planned. The water supply was sufficient and the simulated forest fire and the injured person were quickly under control or rescued.
It was an exciting day for us and it once again confirmed the high-quality O&M support of solar parks by the IBC SOLAR team.