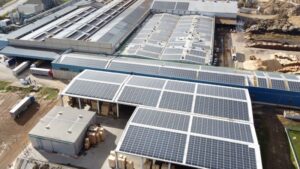 Today, we are presenting a special installation in Spain, which our colleagues at IBC SOLAR España have constructed. This is the largest roof installation to date for an On-Site Power Purchase Agreement (PPA) in Spain, which IBC SOLAR has implemented together with its partner Opengy. The 2.8 MW PV installation is located on the roofs of the international wood company Grupo Losán and generates 4,000 MWh of solar energy per year.
This means that the installation saves 1,200 tonnes of CO2 per year. In the future, the installation will cover 15 percent of Losán's energy consumption at the Soria site with photovoltaics. IBC SOLAR acted as a strategic partner for this installation and supplied the necessary components – including 6,360 Longi SOLAR modules and 21 inverters from Sungrow. In addition to high-quality products, IBC SOLAR supported the project with its international experience of more than three decades in the development, implementation and promotion of large-scale projects.
A milestone for new self-consumption models in Spain
Power purchase agreements (PPAs) are one of the most attractive and innovative ways to integrate electricity from renewable energies into industrial production processes. Such a cooperation, as between Grupo Losán and Opengy, provides for the purchase and sale of clean energy over a long period (10–15 years) at a fixed price. In this case, the energy is generated in the same place where it is consumed – as a so-called on-site PPA. Opengy takes over the investments as well as the operating and maintenance costs.
"This is the first photovoltaic installation we have installed and it was built in just six months. We started in Soria because it is one of our two largest production sites. This will enable us to continue to drive forward the development and improvement of energy efficiency, which we have been committed to for decades," explains Jorge Antonio González Sánchez, Technical Director for New Technologies at Grupo Losán. The international wood company operates a total of 17 production sites worldwide.
"We are very pleased to be part of this important project," adds Alberto Moreta, Business Development and Relationship Manager Iberia & LatAm at IBC SOLAR. "Spain is a very important market for photovoltaics with enormous potential. With this project, we are taking another important step for the promotion of solar energy in the country, but also for renewable energies in general."