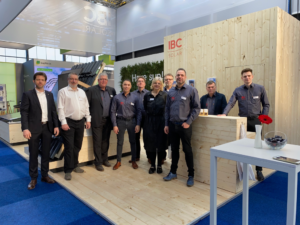 In addition to the trade fairs in Spain, Poland, Austria and Switzerland, we were also present in the Netherlands in March. Solar Solutions, the largest trade fair for solar energy in northwestern Europe, took place there from 14th to 16th March. Today we report on the three exciting days at the fair in Amsterdam.
Solar Solutions in numbers
The fair attracted over 17,000 visitors from 60 countries, which is a 35 % increase compared to 2022. They were able to examine the portfolio of more than 200 exhibitors on an area of 24,000 square meters. With more than 500 innovations and over 100 practical seminars on topics such as battery storage, smart products and the latest module trends, there was a lot to see for the visitors and also a lot of inspiration for the exhibiting companies.
Product highlights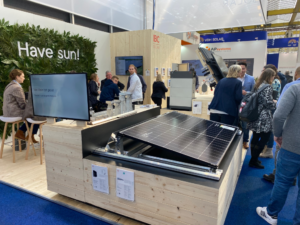 In addition to storage solutions, IBC SOLAR was able to present its latest modules with n-type technology. This includes our in-house IBC MonoSol 410 – 425 MS10- HC-N modules. Furthermore, our IBC SOLAR mounting systems were on display at the stand: AeroFix G3, our aerodynamic mounting system for flat roofs, adapts perfectly to the dimensions of the module and impresses with its cost-effectiveness, modularity and high quality. For pitched roofs, we had our mounting system IBC TopFix200 at the fair. This system is universally suitable for all types of roof tiles, trapezoidal sheet metal roofs or corrugated eternit roofs and meets the required safety and quality standards. We also have mounting systems from Van der Valk in our Dutch product catalogue, which are characterized by versatility and high quality and thus fit ideally into the IBC SOLAR portfolio.
"Due to current supply shortages of many mounting systems in the Netherlands, the interest in our IBC SOLAR mounting systems was very high and there were many inquiries and discussions on the topic. The high-quality IBC SOLAR mounting systems offer many advantages that are even more attractive under the current circumstances," says Harold Salden, CEO IBC SOLAR BV.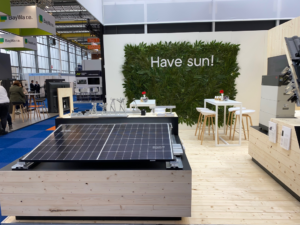 The PV market in the Netherlands
The Dutch PV market continues to grow steadily, with more than 4 GW of new capacity installed in 2022. The topics of storage and heat pumps are becoming ever more important, and electromobility and creative energy management solutions are on everyone's lips.
Grid congestion continues to be a major issue in the Netherlands, and load management has been mandatory since November. Nevertheless, larger solar parks continue to be planned, albeit increasingly without the use of subsidy programs in the future. The industry wants to slowly move away from net metering and promote storage systems. Growth should be sustainable to avoid grid failures in the low voltage grid and to create a resilient market. In order to promote a European solar industry, and also to produce in the Netherlands, a 3 GW solar cell production is being planned. Here, just like in other European countries, the shortage of skilled workers and persistent supply difficulties are the biggest challenges when it comes to quickly advancing the energy transition.
Conclusion
Overall, the fair was a great success and clearly demonstrated the Dutch commitment to solar energy and a smooth transition to renewable energy. We are proud to be part of this movement in Benelux as well.