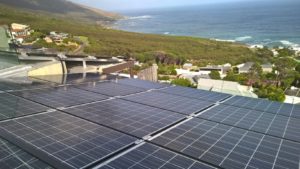 South Africa is an attractive solar market with rapid market growth and more than 300 sunny days a year. We want to use this chance and decided to open our own regional company in South Africa. Since 2014 we have been working together exclusively with our partner maxx | solar energy (Pty) Ltd. in the South African market. Now the new company IBC SOLAR South Africa (Pty) Ltd. with headquarters in Cape Town has been formed in conjunction with maxx | solar energy.
The South African solar market is driven by the growing demand of electricity with simultaneously rising electricity prices. Solar power is meanwhile cheaper than electricity from the grid. With more than 300 days of sunshine a year and radiation values of an average of 2,100 kilowatt hours per square meter the solar potential of South Africa of one of the highest in the world is. Also the government has issued the goal, to build 17.8GW renewable power by 2030 – a large part of it with photovoltaics.
Apart from the optimal geographical conditions, solutions for own produced electricity with solar energy in South Africa are extremely attractive: Companies as well as individuals use PV systems more and more to protect themselves against the ruling instability of the power supply in South Africa. So next to our traditional trading business with systems and components, the advice, planning and implementation of diesel-hybrid, off-grid, and storage systems are in the focus of our business in South Africa.
Together with maxx | solar energy we have already implemented numerous projects in South Africa successfully. The new IBC SOLAR South Africa now offers its customers a perfect combination: Our more than 30 years of experience in planning and implementing of PV systems of all sizes meets the local partner maxx | solar energy, that is familiar with the South African market and has access to a significant network of well-trained PV installers in South Africa.
The regional company in South Africa is currently the ninth for IBC SOLAR. Overall we are active in over 30 countries worldwide with regional companies, sales offices and a strong network of partners.