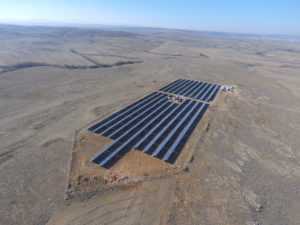 We reported on the busy weeks of our Turkish regional company IBC SOLAR Turkey last summer. This included five major projects being implemented simultaneously. The first projects have now been connected to the grid; including a 1.1 MWp project in the province of Eskişehir. We are expecting a PV expansion of between 1 and 1.5 GW for the entire Turkish market in 2017 – despite the bureaucratic hurdles for project development.
4,140 IBC PolySol 260 modules were installed for the plant in Eskişehir. They save around 1,200 tonnes of CO2 annually and generate approximately 1.7 million kWh of solar power to feed into the public grid. The current feed-in tariff for photovoltaics in Turkey of 13.3 US dollar cents per kWh makes the project particularly appealing for the investor Sarar & Ilgazlar Partnership. The physical and climate conditions in the country are also ideal for generating solar power. This means that Turkey has irradiation values that are just as high as Spain.
Based on these good conditions for photovoltaics, we are expecting further market growth in Turkey. We are anticipating an increase of up to 1.5 GW for 2017. The analysts of Bloomberg New Energy Finance (BNEF) are also expecting plants with a total capacity of 1 GW to be connected to the grid this year.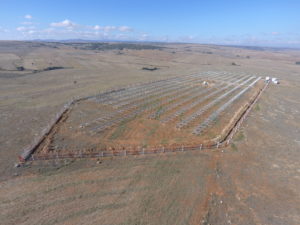 However, aside from all the positives, there is also a dark side of photovoltaics in Turkey. There are a few bureaucratic hurdles which are proving to be inhibitive on the local PV market. First of all, the attractive feed-in tariff will be significantly affected by the increase in grid charges from 2018 and will only amount to approximately 10 US dollar cents/kWh. Secondly, the fact that licences are required to build major PV systems in Turkey is also proving to be an obstacle to PV project development. The licences are requested from the competent energy regulation authority and require extensive documentation and security deposits. This takes a considerable amount of time.
Nevertheless, the Turkish PV market has grown rapidly over the last few years. We ensure the best possible operation and the highest possible, long-term performance of solar parks with technical operation, maintenance and monitoring (O&M) and guarantee a constant return on your investment. We are cooperating, for example, with the local franchise partner Demir Engineering on the major project in Eskişehir. The standard service package includes plant monitoring, troubleshooting support, preventative maintenance services as well as the maintenance of green areas and reporting.
We and our Turkish colleagues are pleased with the excellent projects in Turkey and are already looking forward to the next ones!