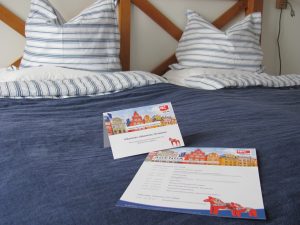 What expertise do we offer our international Premium Partners? And how can we address the individual characteristics of the different markets? Our experts will answer these questions with a new series of conferences named IBC SOLAR Regional Partner Summits. The second of these was held in Sweden recently.
In late February our Regional Partner Summit Scandinavia took place in Stockholm. For the first time, we only invited customers from the key markets of Norway, Finland and Sweden. With this event, we want to strengthen customer loyalty and also welcome new customers. At the beginning of the event we had a get-together in our hotel located at the waterfront, in the nice district Nacka Strand.
As it was the case at the 1st Regional Partner Meeting in Switzerland, the main focus of the event in Sweden was the sharing of knowledge. Solar installation in Scandinavia require special attention due to the additional snow load. This is sometimes a tricky issue, especially for PV energy systems on flat roofs. Therefore the participants had presentations and panel discussions on surface pressure and fall protection as well as on storage systems. Apart from that, our newest cooperation in the area of electric driving with EVBox was also of great interest.
Business first, then pleasure! The event was rounded off with a great dinner and a visit to Icebar Stockholm – which is made of almost 40 tons of ice! Following the successful event in Stockholm, our Regional Partner Summits will be continued and will lead us to Spain and the MENA region in the course of the year. We are already looking forward to welcoming our Premium Partners there!
Find impressions in our gallery!