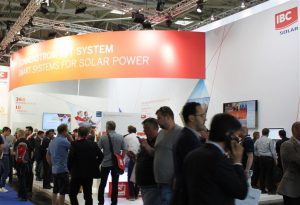 Life. Empowered by the sun – this credo sums up our presentations and product innovations at the Intersolar Europe 2018 in Munich. Have a first glance of the highlights we are going to present.
Partners benefit from a strong community
IBC SOLAR will launch a new International Partner Program for its customers in 2019. Interested parties will already get an initial insight into the new services and offers at this year's Intersolar.
Technical support in large-scale PV and tenders
"We empower your business!" – this means IBC SOLAR will offer its customers new technical services in the area of large-scale rooftop and open-space systems between 1 and 5 MW.
New insertion system for pitched tiled roofs
Fast installation without module clamps and a particularly appealing design – a new developed mounting system of the IBC TopFix 200 product family combines these aspects. At this year's Intersolar, IBC SOLAR will present its new insertion system for the first time.
Strong and efficient: Glass/glass module
The first glass/glass module made by IBC SOLAR has an extended performance guarantee of 30 years and is particularly well suited for installations in the residential sector and for installations in areas with very high environmental impact.
Smart combination: EV and PV
Only in combination with renewable energies, EVs are truly sustainable. For this reason, IBC SOLAR expanded its product portfolio by including solutions for electric driving. At Intersolar, visitors will learn about the benefits of using solar power for mobility.
Want to know more? Then take a look and visit us at the Intersolar in Munich! You will find us from June 20 to 22 in hall A3, booth 579.