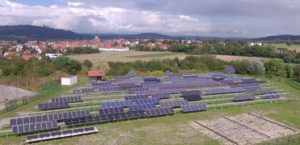 A walk through our test facility allows you to immerse yourself in the history of photovoltaics. Modules from many generations, some already a decade and a half old, show how technology has changed. Guest author and product manager René Schüler presents special test objects in a blog series and provides background knowledge to cell technologies and typical ageing effects. Using thermographic images, he looks into the interior of the modules in the last part of our series.
In addition to the visual analyses, the performance data and the "inner values" of the modules installed at the test facility are regularly recorded at our laboratory using a flasher and electroluminescence measurement.
Sticking to performance guarantees
Satisfactory: The majority of installed modules at the test facility are within the scope of their performance guarantee. However, there are also individual module types that are at the limit or outside the performance limit allowed.
The visual appearances may also be assessed on site with a temperature profile by means of thermographic examinations, for example at "hot spots", i.e. areas with elevated temperatures and "mismatch", i.e. detecting the use of different cell efficiencies in a module.
Scroll through our picture gallery with different thermographic images:
Read more:
Part I: Polycrystalline modules through the ages
Part II: Visual error images