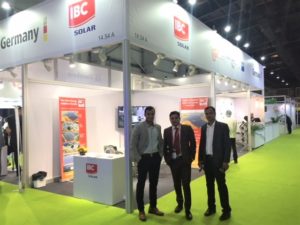 IBC SOLAR Energy participated in REI Expo held during 18-20th September 2018 at Greater Noida, a satellite town close to New Delhi, India. IBC SOLAR's booth was located inside the German Pavilion. Situated next to Indo German Energy Forum booth it had the opportunity of good visibility in the sprawling hall no. 14.
The IBC SOLAR team had the opportunity to participate in a panel discussion organised by Indo German Chamber of Commerce on the issue of "Upcoming opportunities and Niche Markets for Solar PV in India". The session was chaired by Dr. Caroline Silva-Garbade, Head of the Economic Affairs Section, Embassy of Federal Republic of Germany. Media partners like PV Tech, Renewable Watch and a local TV channel also conducted detailed interviews with the IBC SOLAR representatives about Indian Solar Sector and IBC SOLAR's product offerings.
Our booth was visited by an interesting mix of potential customers, investors and companies interested in the solar power solutions. Some of the contacts generated could be of immense value in future. The main issues of discussion at the fair was the reduction in solar tariffs globally and the impact of the same on the margin of the project participants. Recent trade disputes and safe guard duties were also another important point. While there was a consensus on the medium-long term potential of the Indian market, short term currency fluctuations, change in policies and the general election in May 2019 weighed on the minds of the Expo visitors.
The Expo was largely successful in terms of participation and interaction amongst the industry players. A higher degree of participation from Government of India would have been good. This Expo is followed by another event – RE INVEST 2018 – held along with the General Assembly of International Solar Alliance in next 10 days at the same venue.
It's the fist participation of IBC SOLAR Energy in an Indian trade fair in recent years. Hopefully, it will help increase brand awareness and provide us a platform to showcase our quality offerings in this important market.
Guest author: Shailendra Bebortha, IBC SOLAR Energy (India)