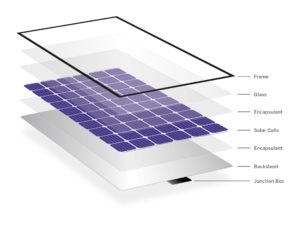 Fire safety plays an important role in Italy, particularly when it comes to photovoltaic modules. The country-specific provisions are even more strict here than the EU standard. For us this means that since 2013 we have been working with a specialised laboratory, accredited by the Italian interior ministry, for the analysis of fire safety classes for poly and monocrystalline modules in the IBC SOLAR Line.
Comprehensive inspections were once again carried out over the past few weeks in order to characterise the fire safety behaviour of the IBC SOLAR Line modules. After comprehensive tests, the highest classification, "Class 1", with outstanding flammability properties was certified for the IBC SOLAR Line module variants IBC MonoSol VL5, IBC MonoSol GX5 as well as IBC PolySol VL5 and IBC PolySol GX5.
The Italian UNI 9174 provisions for the inspection of the fire behaviour of materials under the effect of radiant heat also apply to solar modules and supplement the globally valid design specification as a country-specific requirement according to IEC 61730. There is a division into three protection classes for the inspection. Solar modules that reach the highest fire safety class 1 with an outstanding fire safety behaviour may be installed without further proof of the properties of the spreading of fire in the roof materials.
It is the goal of IBC SOLAR to always offer the highest quality standard for all products of our IBC SOLAR Line own brand (click here to see a video) and therefore also the highest fire safety class 1 for the country-specific requirement in Italy. To this end, all necessary material components are subjected to comprehensive quality inspections ahead of time and continuously optimised with the respective component suppliers.
Alongside the front glass, the cell, the encapsulation material (front/rear) and the insulating foil on the back are also characterised. In the test itself the dripping behaviour, the speed of the flame spread, the afterglow and the destroyed length are assessed. The subsequent independent classification into a fire safety class by the authorised testing laboratory in Italy is consequently binding and is officially registered in the Italian interior ministry.
With the new certificates we underline the high quality standard of our solar modules and are laying the foundations for a successful market expansion in European growth markets such as Italy.