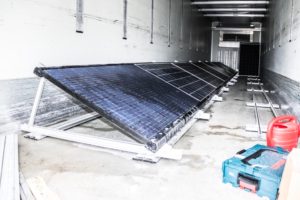 Right into the freezer and back. Well – with an area of 30 square meters the freezer in this case is slightly bigger than the usual household devices. We are referring to a special test that we have performed on our mounting systems. We wanted to know the following: Will temperatures of minus 20 degrees harm the rails and modules and can major icing cause frost damage?
To resolve this questions we have developed a mobile climate container with space for 7 modules including the substructure. The main test object was our new IBC TopFix 200 insertion system. We presented this to the public for the first time at Intersolar 2018. Various modules from our current portfolio were mounted on the insertion system, their performance and condition was tested beforehand in the flasher and with electroluminescence testing.
The test setup
The container was frosted and thawed alternatively in 24-hour intervals for a month. The lowest temperatures were minus 20 degrees. As the cold alone has little impact on the modules, a lot of water was also used to cover the modules and profiles in solid ice.
The result
The PV system passed the endurance and cold test in an exemplary fashion! Ice and cold have not caused damage to the modules or the mounting system. The performance and condition of the modules were still faultless. The ice that has formed on and in the rails of the mounting system did not cause deformations or breakages.
Why a cold test?
The experiment is not a standard test, but is instead a unique procedure developed by us. Huge amounts of snow and long-lasting icing are a regular occurrence in the winter months, especially on the Scandinavian markets and in the Alpine region. As we and our customers also expect photovoltaic systems installed once to have a service life of 20 years or more, a practical test was the best way to obtain findings on this, especially in relation to the planned product launch for the IBC TopFix 200 insertion system at the beginning of 2019.