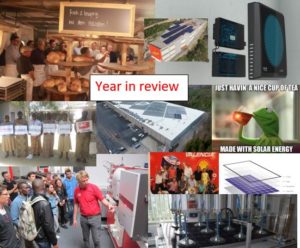 The year is drawing to a close. Time for a review of the solar year 2018! Read here which highlights we have experienced in the past 12 months.
January to March
Our first Premium Partner Summit takes place in Switzerland. The focus of the event lays on the sharing of knowledge, the fun part involves baked apple dumplings and many more Swiss culinary delights.
We are happy to announce a new partnership: From February on, IBC SOLAR will be the German distributor for EATON's new energy storage solution xStorage Home.
We are also very proud to announce the completion of the first large-scale PV plant our company has built in southern India. The solar park was built near the city of Madurai for a large tea plantation.
April to June
Sweden goes solar in April! Our Premium Partner Solkompaniet has now installed the country's largest PV rooftop system to date for the online pharmacy Apotea.
Hands-on experience instead of dry theory – 20 students from Ansbach University of Applied Sciences and its partner universities from Kosovo, Ukraine and Nigeria spend the final day of their summer school with us in Bad Staffelstein.
Having access to electricity around the clock was certainly not taken for granted at Centre Béthel, a Catholic education centre in Chad. A fundraising campaign has made it possible to install a new photovoltaic system with battery storage. Now solar-generated electricity is available around the clock.
July to September
Commercial PV in Lebanon is on the rise. Companies are increasingly investing in PV solutions, with a focus on self-supply with solar power to reduce energy costs.
The presentation of new and improved mounting systems is one of the focus points at this year's Intersolar Europe.
The Spanish solar sector is said to be on rebirth. Therefore our 4th Regional Partner Summit is held in Valencia in September, including some hot tires!
October to December
It is the goal of IBC SOLAR to always offer the highest quality standard for all modules of our IBC SOLAR Line brand. Therefore we are very proud to receive the official proof for highest fire safety class 1 in Italy.
In November we expand our in-house quality control laboratory with a loading table for mechanical testing. Modules can therefore not only be subjected to a load test alone, but also in conjunction with mounting systems.
Our South African colleagues have commissioned a 194 kilowatt peak system with battery storage in the capital of Zimbabwe. The Standard Association of Zimbabwe will be using the PV system to become energy independent.
We wish all blog readers and Premium Partners a Merry Christmas and a sunny outlook in 2019!