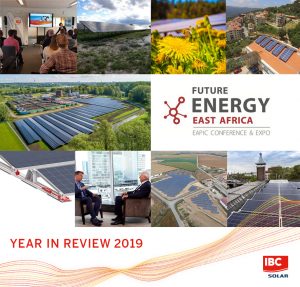 The year is drawing to a close. Just before Christmas, we take the time for a review of the solar year 2019! Read about the highlights we have experienced over the past 12 months.
January
The year started with a solar hybrid solution for a housing estate in Lebanon. The housing estate was equipped with an off-grid PV system including batteries for backup storage by Smart Age – our Lebanese Premium Partner. The solution is meant to make the site more independent from diesel generators and immune to power outages.
February
In February, the construction of the project Anheim started. We were involved in providing a solar park consisting of 7,200 solar panels in three months for the Dutch regional water authority Rivierenland. Creating this 2.2 MWp installation at the Arnhem sewage treatment plant, the Rivierenland Water Board is taking an important step towards its sustainable ambitions.
March
Flat roofs are still of high relevance when it comes to the installation of PV systems. Something that should not be neglected when it comes to installations is the safety of the maintenance workers. This is now guaranteed in connection with our IBC AeroFix mounting system. Alongside us: Preising GmbH and Co. KG. We are very excited about the cooperation with this experienced provider. In addition, this month we took part at The Solar Show in Johannesburg.
April
The installation of photovoltaic systems on historic buildings is a small challenge for any system provider, as the strict requirements for the preservation and protection of the building must be taken into account. Our Dutch subsidiary gladly accepted the challenge and successfully supplied the Hermitage Museum in Amsterdam with a PV system.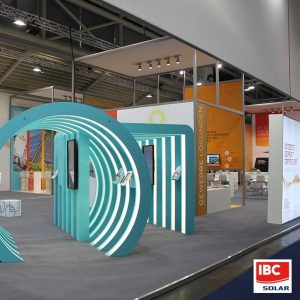 May
The solar industry met again in Munich at the Intersolar Europe this year which took place a month earlier than usual. We were once again in attendance and presented our annual highlight: the fall protection device AeroFix Latch.
June
2019 was dominated by energy transition, climate change and biodiversity. The latter was discussed in detail during the referendum. Time for us to mention that solar parks also make a significant contribution to this. They offer an important habitat especially for bees. Something that beekeepers can also benefit from. Our blog post shows exactly how this works – solar parks and bees: a real dream team!
July
Together with universities from Bavaria, IBC SOLAR supports the realisation of pilot projects for the expansion of energy supply in Namibia. The goal: the sustainable improvement of the power supply based on renewable energy.
August
A sign of climate protection: In the middle of the year, our company founder and CEO Udo Möhrstedt visited ZDF presenter Ralph Szepanski in Frankfurt and answered questions in the format "The Business Debate" (welt.de) on "using photovoltaics in a clean future". Here, our CEO explains why a PV system pays off both in the commercial sector and for private use, what an energy management system does and tells about what needs to happen to achieve our climate goals.
September
This month we attend the Future Energy, Nairobi's largest and longest running regional power conference and exhibition in East Africa. At this exhibition, the IBC SOLAR presented new and established services as well as our product range.
October
Growth in Sweden – our franchise partner IBC SOLAR AB expands to Gothenburg.
Another highlight: IBC SOLAR attends two important fairs: the Elmässan in Stockholm and Solelmässan in Uppsala.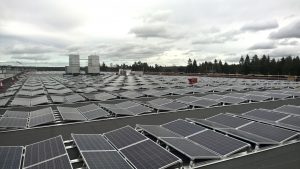 November
The blog entry of the month highlights our close relationship to our exclusive partners: This time in Norway.
December
Together with our Spanish Preferred Premium Partner Enerland Group, we delivered and installed a PV system with a capacity of 1.6 Megawatt. The installation in Lalueza, province Huesca, includes 4863 modules in total and produces 2240 MWh green electricity per year.
We say a big thank you to all blog readers, customers and Premium Partners and wish you a Merry Christmas and a Happy New Year!